What are the Primary Types of Digital Marketing Services?
The idea of starting digital marketing efforts for your business can be a little confusing and maybe even intimidating. Understanding the basics is a good place to start.
Last Updated January 28, 2023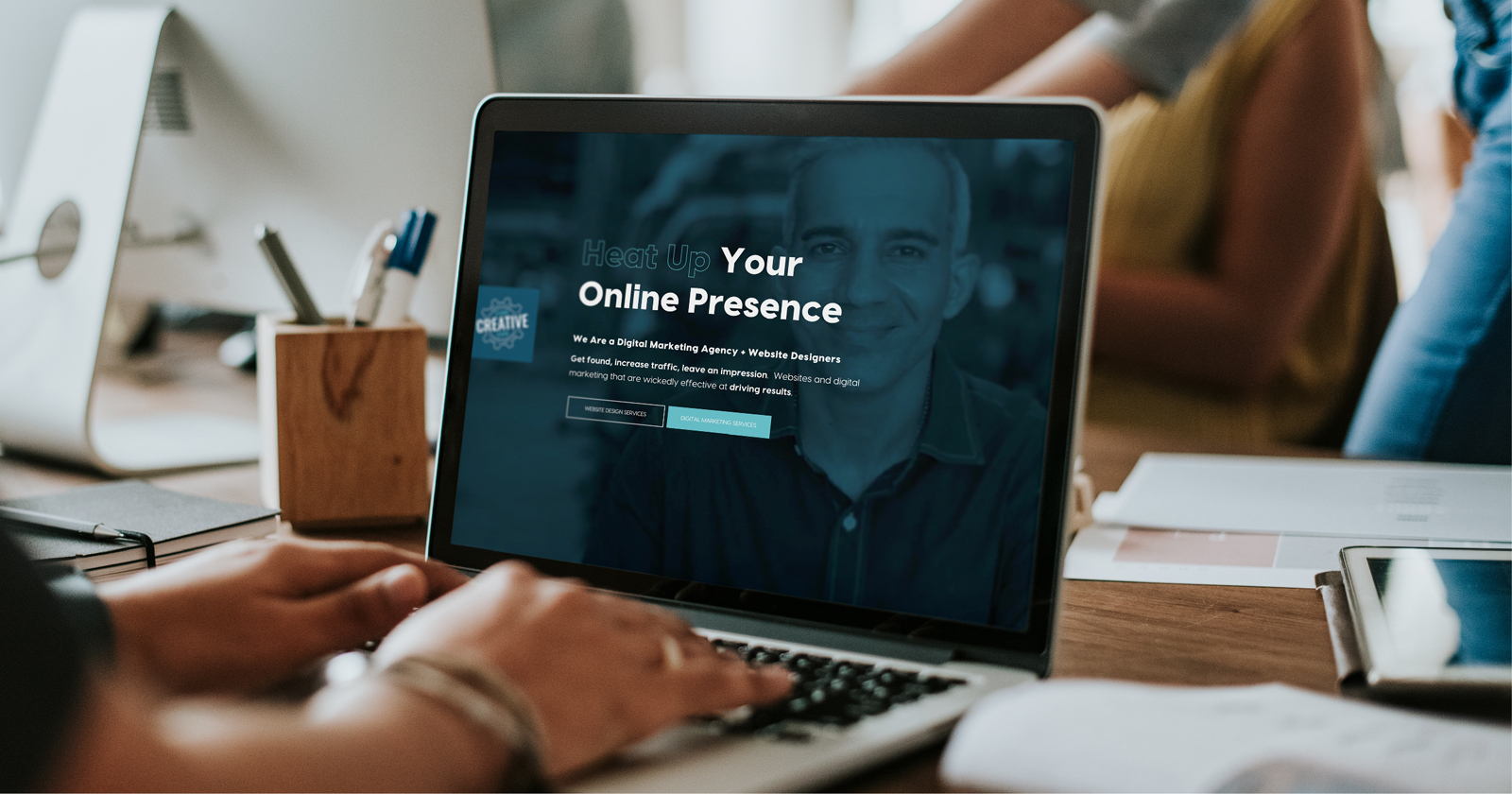 Understanding the 6 Major Digital Marketing Services
"Digital Marketing" is a catch-all phrase that covers a variety of online marketing strategies, tactics and services. That can make the idea of starting digital marketing for your business a little confusing and maybe even intimidating. If you're ready to dip your toe into the realm of digital marketing services, knowing these Top 6 is a good place to start.
Website Design + Development
Social Media Marketing
Search Engine Optimization
Pay Per Click Advertising
Email Marketing
Content Marketing
Countless businesses — big and small — are using these primary digital marketing services to drive traffic to their websites, generate leads, attract new customers, and improve their bottom line. Digital Marketing pays in dividends. Whether you use one, another, or all of these tools at once, it is a guaranteed way to grow your business over time.
Website Design & Development
The foundation of a strong digital marketing strategy is a robust, professionally built website. When we say robust, we mean a site that isn't built with the GoDaddy site builder, or an out of the box theme from SquareSpace, Weebly, or Wix. Ensuring that your site is looking and functioning at its best ensures you'll get the most out of your other digital marketing investments.
Remember, a website is far more than how it looks. Your website needs to provide helpful content to your readers, be functioning properly, be easy for visitors to locate what they are looking for, and be adaptable to all screen sizes. A knowledgeable website design company will make building this type of a site seem easy.
A successful website will include:
Easy to use interface and contemporary layout
On-brand design elements throughout
A format that is responsive to all device sizes (e.g., desktop, laptop, tablet, mobile)
Helpful content optimized for search engines
High-quality images, graphics, or video
Technical SEO (e.g., page speed, URL structure, robots.txt, xml sitemap etc.)
On-page optimization to attract traffic
Easy to use on-site payment options
Social Media Marketing
As of 2023, estimates say there are 4.9 billion social media users worldwide. That number continues to climb year over year. While most business owners are familiar with the major social media platforms (e.g., Facebook,Instagram, LinkedIn, etc.), not every business is executing social media marketing the proper way.
Using social media to help improve your business is a fantastic idea. However, it is simply not enough to post content without a goal-oriented plan. For social media to be effective, a strategic approach is necessary.
That's why Social Media Marketing (SMM) is one of the primary categories of digital marketing. Many businesses will need assistance establishing this kind of data-driven, effective social media strategy. The good news is that SMM agencies offer several options for marketing and management of your social media platforms. Agencies like ours will help your brand reach its target audience, post relevant and engaging content, drive traffic, reach its goals, and support sales.
When social media is performed with a strategic plan, businesses can expect a higher return on their social campaigns while also establishing a more dedicated following.
Search Engine Optimization (SEO)
Google is the most widely used search engine in the world. It is responsible for driving traffic in droves to business websites across the internet. To be clear, Google processes more than 8.5 billion searches per day. With this many users searching for everything under the sun, including the products and services that your business offers, most businesses cannot afford to overlook SEO.
SEO involves optimizing your website and online profiles to rank higher in the search results so that your business is being noticed by potential customers. Every type of business benefits from SEO. Even the smallest of businesses can grow significantly when SEO is implemented.
An SEO agency will help improve your website in ways that it will rank for key terms your audience uses in Google to find products and services like yours. Your chosen SEO group will ensure that your website is technically strong, is optimized for mobile search, provides high-quality content, and makes it easy for customers to get in touch or make a purchase. They will also monitor metrics, report updates and improvements, and make adjustments as needed.
Pay Per Click (PPC): Paid Digital Advertising
It may seem as if everyone is paying for digital ad space these days. And for good reason. According to statistics, anywhere from 45% – 96% of brands are investing in some form of digital advertising. The term most often used is pay per click (PPC), however, paid digital advertising also includes paying for impressions (viewability).
Examples of PPC advertising platforms include Google Ads (the most popular), Facebook + Instagram Ads (coming in second in popularity), and LinkedIn Ads. Advertisements on these platforms work to increase brand awareness, influence consideration, and drive conversions (sales). Each platform has its own incredibly detailed algorithm that determines the cost for each click or impression.
This digital marketing service helps businesses generate leads faster. With PPC advertising, business owners don't have to wait on the organic reach of SEO or social media to get noticed. Instead, these paid ads will drive traffic and leads right away. Even for a small marketing spend getting started (e.g., $200 per month), you can reach thousands of people that organic reach alone cannot. Typically, over time, businesses will gradually increase their ad spend to expand and improve their results.
Understanding the nuances of PPC is important to ensure that your ads are their most potent. This includes targeting the right audience, remarketing at the right time, configuring ads properly, bidding to get the maximum exposure at the lowest cost, and so much more. Be sure to work with a specialist that you can trust to manage this area of your business.
Email Marketing
We love email marketing because its value is underestimated and therefore, so often overlooked. Email has been around since 1983 and many businesses don't think passed its use as an alternative to a phone call. However, businesses can get very specific with their targeting, grow the size of their lists, and generate new leads from that list — month over month.
The key is understanding these subscribers so well that you market the right kind of content to them in your emails. A helpful strategy is to segment your list into buckets that are meaningful to your business. For instance, at Studio Barn Creative, we have segments for people we've built a website for, people whose sites we didn't build but we maintain their WordPress website, people who have not worked with us yet, people who are our digital marketing clients and so on. Each group receives different email content.
Money making happens in understanding how to capture leads and in having a strong email list. Working with professional email copywriters and strategists will ensure the best results in terms of email opens, clicks, traffic, and sales.
Emails generate better results than most marketing channels. Among marketing channels, email marketing yields the highest return on investment (ROI) for the past 10 years. It also has the highest conversion rate (66%) for purchases made in response to promotional messages.
MailChimp, Campaign Monitor, Klaviyo, and Constant Contact are all examples of third-party software that will help you with your email marketing efforts. Not for nothing, our preferred system is Mailchimp.
Content Marketing
Content marketing is also a catch-all phrase that includes any type of marketing that involves promoting your content to a broad audience. Most often, people think of creating blog articles as a means of driving traffic and video marketing to drive views.
A planned content marketing strategy will help your business to reach more potential customers across a wide range of platforms without having to constantly churn out content. Using and repurposing content across several platforms is part of content marketing.
For example, a single piece of content (let's say a new blog article) can be helpful in multiple ways.
Added to your website it will be found through SEO
As a link to the article posted to Facebook it reaches more people
Include a link to the article in an email to your list
Create a PPC ad that promotes and links to this article
Make the Leap with Your Online Marketing
If you're just starting out, understanding the basics of digital marketing is very helpful. In general, digital marketing is about getting your business noticed online, and there are several methods for making this happen.
Above, we covered the primary digital marketing services businesses use to grow their brand. But, these are just the tip of the iceberg. To wield these well, working with a dedicated digital marketing team is the way to go. They will outline a strategy tailored to your business. The strategy may include one, a couple, or all of these services.
Our mission as a digital marketing agency is to assist you in generating the most visibility for your brand. Are you ready to take the leap when it comes to your company's online reach? Get a custom quote for digital marketing services.
We Hope You Liked This Article
NO TIME TO LEARN THE ROPES?

Our team provides wickedly effective websites, maintenance plans,
+ digital marketing services
for businesses just like yours.

Click HERE to get started.