Digital Business Hacks – Our Top 5 Picks
These are our top 5 go-to digital business hacks that are small-effort with big-impact. Bonus: They're Free.
Last Updated May 31, 2023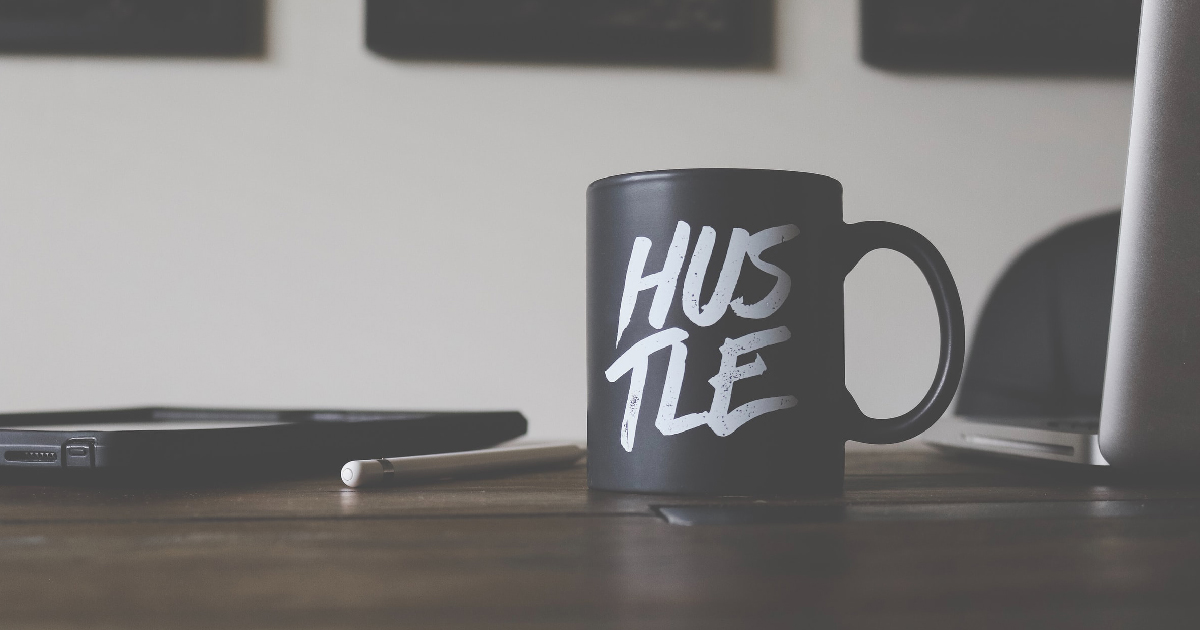 Every day we are fortunate enough to work with clients who are energetic and motivated to continue building their businesses. Their vision is clear, their service is stellar, and their product is phenomenal. However, a common mistake we see often is that the digital side of their business doesn't get enough attention. Our mission is helping business owners. Here, we are providing a list of 5 Free Digital Business Hacks. These are our go-to for small-effort with big-impact. They will save you time, build on your business credibility, and position your business to start ranking (better) with search engines like Google.
#1 – Create a Professional Email Address
Oftentimes, new customers will email us from an address something like "mynewbusinessname@gmail.com".  This approach is a great start to ensure that you're using your business name and not your personal name to communicate. However, it would be even more professional to create an email something like "Bob@mynewbusinessname.com".
This hack assumes that you have already determined your business name and have purchased your domain name (e.g., your website address) from a source like GoDaddy. If you own your domain name, we recommend that you create a professional email to go along with it.
Using Google Gmail for Business, you can get that email address for FREE for 30 days (and then $5/month after that).  Be sure to have access to your Domain Account as Google will ask you to verify your ownership of the domain name.
#2 – Create a FREE Google My Business Listing
These days, it is advantageous for businesses owners to understand that the majority of people looking for a business will reach for their phone or computer first. Getting found when someone searches for you is much easier if you have a verified business listing with Google. A Google My Business listing helps you appear in Google Maps and in Search Engine Result Pages. Your listing can show your business hours, link to your website, photos of your product or office, and the number of reviews your business has received on Google.
If you have a brick and mortar store, let Google know by creating a free business listing. If you are a business that serves a specific area (and do not have a place for customers to walk into), create a Service Area Business (SAB) listing through the same process. As a SAB, you'll input your address, however, it will not be shown to the public. What will show is the area that you service.
#3 – Maintain a Uniform Online Presence
As new businesses get started, it's not unheard of that names change, phone numbers change, and locations change. Heck, your website address might even change. While you're feeling amazing about your growth, Google and other search engines are becoming confused. Each time you or an employee enter your business information online (e.g., YellowPages.com, Yelp, Facebook, Instagram, Citysearch, Foursquare etc.), it is being indexed and reported to search engines. If you've created several variations of your business information, your credibility and search engine rankings take a hit.
It can be very time consuming to find each of the online accounts we mention above (and there are several more) and check the information of each. But fear not, there is a way to check all of your listings in one simple place – Moz Local.
After entering your website, Moz will provide you with a list. The list will show all the different variations your business may have. From there, you'll be able to see where there are duplicates or erroneous information. This gives you a place to start if you want to manually start correcting the information. OR, for a small fee, you can subscribe to Moz Local and let them do the heavy lifting for you. Either way, we encourage businesses to correct information as quickly as they can and where they can. Unfortunately, sometimes updating this info can take weeks or months.
#4 – Reviews and Ratings Help Your SEO
When we hear a friend talk about a business that they love, we are more likely to use that business. A friend's referral carries a lot of weight as we decide which service provider we want to use. Google believes that to be true, too. The more your business is favorably reviewed, the better your business will rank in the Google search engine. While Google reviews are the best, local rankings are also affected by favorable reviews and ratings on Facebook and Yelp, too. Where favorable reviews help, you can imagine what those nasty reviews and ratings are doing for your business.
So, what to do? While it may feel uncomfortable and a little counter-intuitive, we recommend asking for favorable reviews. Here at Studio Barn Creative, we've created a direct link to take customers right to the review window. The easier you can make it for your customers, the more likely they'll be able to complete the review process for you.
#5 – Create ALT Tags for ALL of Your Website Images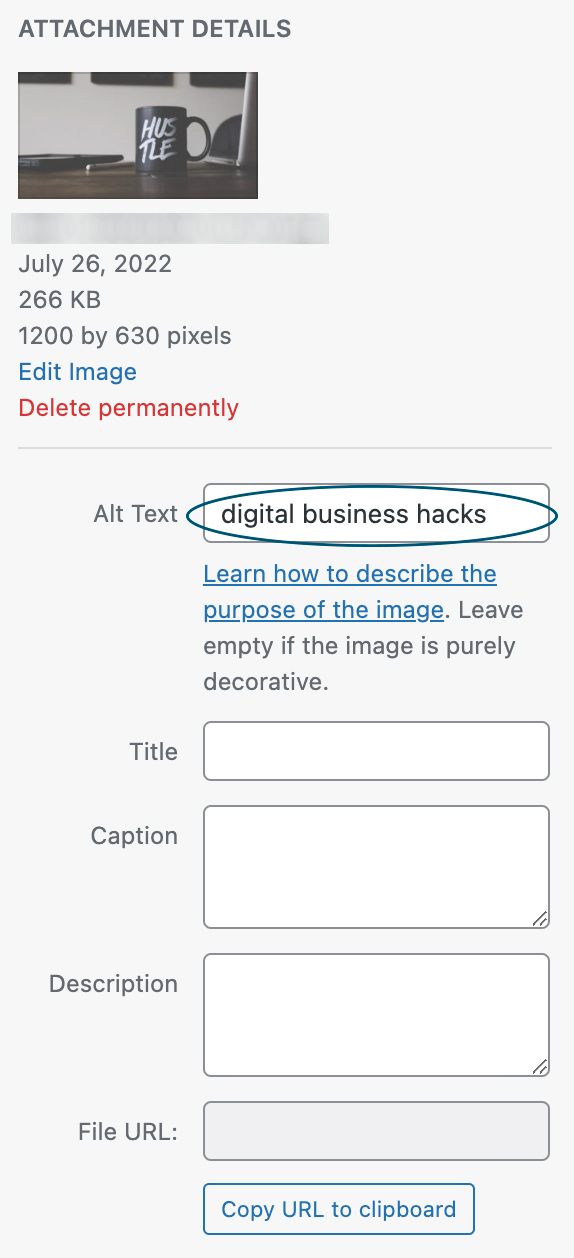 Google is pretty smart, however, they haven't figured out how to "read" a picture yet. That's where "ALT" tags come in. It's one of our favorite digital business hacks. When you load an image to your WordPress website, you have the option of adding text for an ALT tag (see inset image). ALT tags serve to let Google read/understand what your image is about. If you haven't been using ALT tags, you should. Your website is missing out on a rich opportunity for additional indexing and search engine optimization.
Not only does it help your business, it also provides a clear alternative for screen readers. This is incredibly helpful for individuals who rely on them to understand your website's content.
Your ALT tag should be meaningful and in line with the content on your website. Adding an ALT tag that reads "dogs are awesome" if you're an appliance repair center, will have no meaning or value. Here, as an example, we used the ALT tag "Digital Business Hacks". We chose this tag because it complements a post title and article content. Also, it is something that people may search for as a business owner. Be sure that your ALT tags are relevant to your content.
We believe these digital business hacks will help move the needle for your business.
We Hope You Liked This Article
NO TIME TO LEARN THE ROPES?

Our team provides wickedly effective websites, maintenance plans,
+ digital marketing services
for businesses just like yours.

Click HERE to get started.