Website Security Isn't Just for E-Commerce Anymore
Helpful articles because running a small business is Big Work!
Website SSL Security Isn't Just for E-Commerce Websites Anymore
Why Everyone Needs an https:// Secure Website
You probably missed it, the announcement that Google was making https:// based website SSL security even more important and "dinging" websites that don't have the proper tools in place. If you think that might be you, read on for how to fix it.
This may feel like a toothache, and you may approach it the same way: "If I ignore it, it just might go away". Unfortunately, just like a toothache, this problem will get worse if ignored. As of the end of January 2017, if your visitors use Google Chrome (and as of 2015, over 1 Billion people were) to find your website, and you don't have the proper website SSL security in place, it is quite possible that your visitors will be confused and scared away by the big red warnings that Google has started implementing. What might be even worse, website SSL security is now being used as a ranking signal by Google.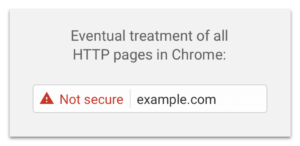 Here's What You Should Do
Test Your Website
First, test your site. Do you see a padlock icon in the location bar letting you know that your visitors are secure like the image below? If you do, you're all set. If you see an "i" icon in a circle or a warning sign like the image above from WordFence, you have some work to do. Did you know that without this level of protection that your WordPress login credentials are at risk of being stolen?


How Do I Secure My Site?
Security, for this application, is about getting what is called an SSL certificate (learn more about SSL certificates here) and applying it to your website server where your website's files are hosted. This will add the "https://" and the padlock to the location bar of your website. An SSL certificate can cost, depending on where you purchase it, from $10-$100 and must be renewed each year or, depending on your provider, could be included in your monthly/yearly hosting fees. Your hosting service or website developer partner can install the certificate on your website. If you do not see the padlock image and "secure" after installation there are several adjustments that need to be made on an off site to 1) ensure that the certificate is implemented properly, 2) to eliminate any non-secure images / files that are called on those pages, 3) and to alert Google of your new SSL enabled site and encourage them to index your shiny new pages.
Want Us to Do All The Heavy Lifting For You?
You're in luck, we offer this service. Take a look here at all that is included.
Should I Secure My Site?
Securing your site with an SSL certificate is not like securing your home with ADT. ADT won't come by your home with a big red sign for your yard that tells everyone that you're not protected, and your neighbors won't think less of you if you don't choose that service to protect your home. However, website SSL security has been taken to that level by Google. They will alert everyone that sees your website that your website is not secure, and they will rank you differently in search engines if you don't comply with the new website security protocols. If your website is an important part of your business, and you rely on it to drive business to your company, then this website security update is strongly advised. Google will reward you for your efforts, and visitors will feel that you are trust-worthy, which can instantly build your credibility with potential customers.
Who Can Help Me With This Update
If you are working with a website consultant or website developer partner, they should be able to help you with this. We do suggest that you first check to make sure that their site is already secured, and if not, choose a partner whose website is and is also familiar with the udpate process. The process can involve some additional behind the scenes work including cached files and redirects.
The Wrap Up
Only you can decide whether or not to pursue this higher level of website SSL security for your visitors. Keep in mind that Google has already decided that it's important, and we tend to believe that Google blazes many trails where the internet and online policy is concerned.
What's Next
If you are already experiencing successes related to having installed an SSL certificate for your website we'd love to hear about it in the comments section below. If you think you'd like to have a discovery session discussion with us about website security needs and application of an SSL certificate, send us an email at info@studiobarncreative.com or take a look at some of the services we offer as we build and care for our customer's websites.