Before Hiring a Website Maintenance Services Provider
It's always a good idea to ask questions, especially about something as important as the care of your business' website. Knowing which questions to ask is key.
Last Updated August 8, 2022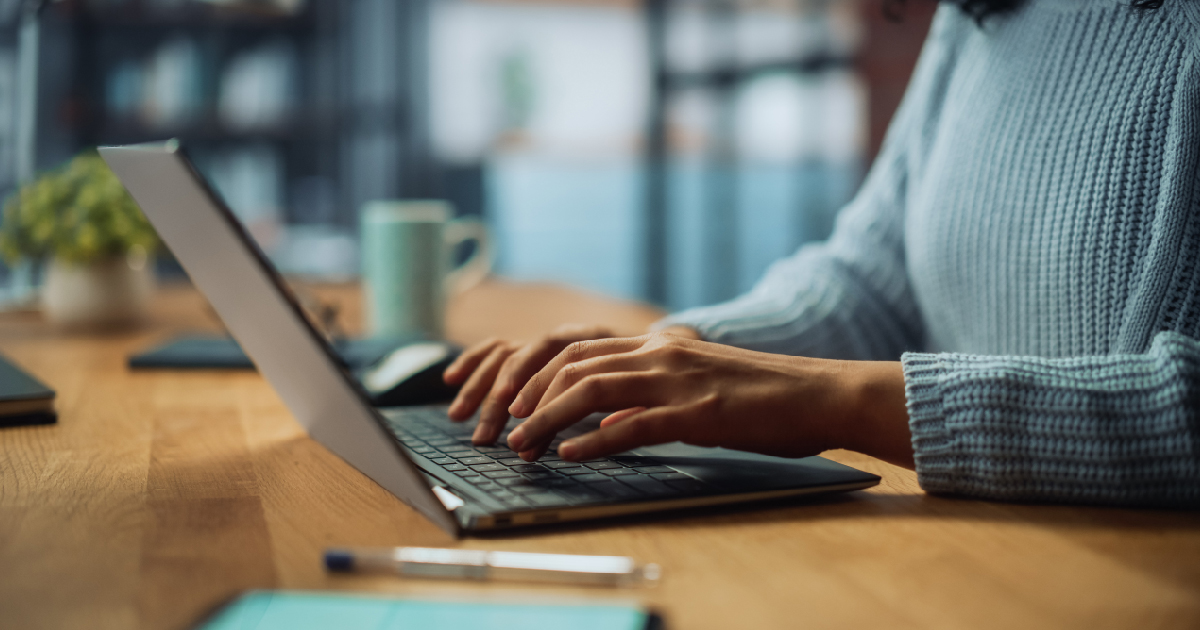 Before Hiring a Website Maintenance Services Provider – Ask These 10 Questions
Are You a Business Owner Looking to Hire a Website Maintenance Services Provider?
Website Maintenance Services Providers are getting a lot of attention these days. And, one size does not fit all. Depending on your business, and how you work, not every service provider will be a good fit for you.
We know it can be a cumbersome task when you may not be sure what website maintenance is, if you really need it, or how it should work. It's not uncommon for us to hear stories about client's 'bad experiences' with previous providers. So, before you hire someone to look after your site, ask these key questions. Whether we ultimately work with you or not, there are several things to consider when making your selection. The answers may help ensure not only a good experience, but also a healthier website.
WHAT'S INCLUDED?
Perhaps the most important question to ask is "what's included". If you're not a web developer by trade, understanding what is needed to keep a site running may be something you're not quite sure about. We've found that different service providers offer different levels of service. Before hiring a website maintenance services provider, visit their website and look for a clear outline of what's included in their plan.
What's Included from SBC:
At Studio Barn Creative, we offer three different plans for our clients to choose from. Learn more about our website maintenance plans here.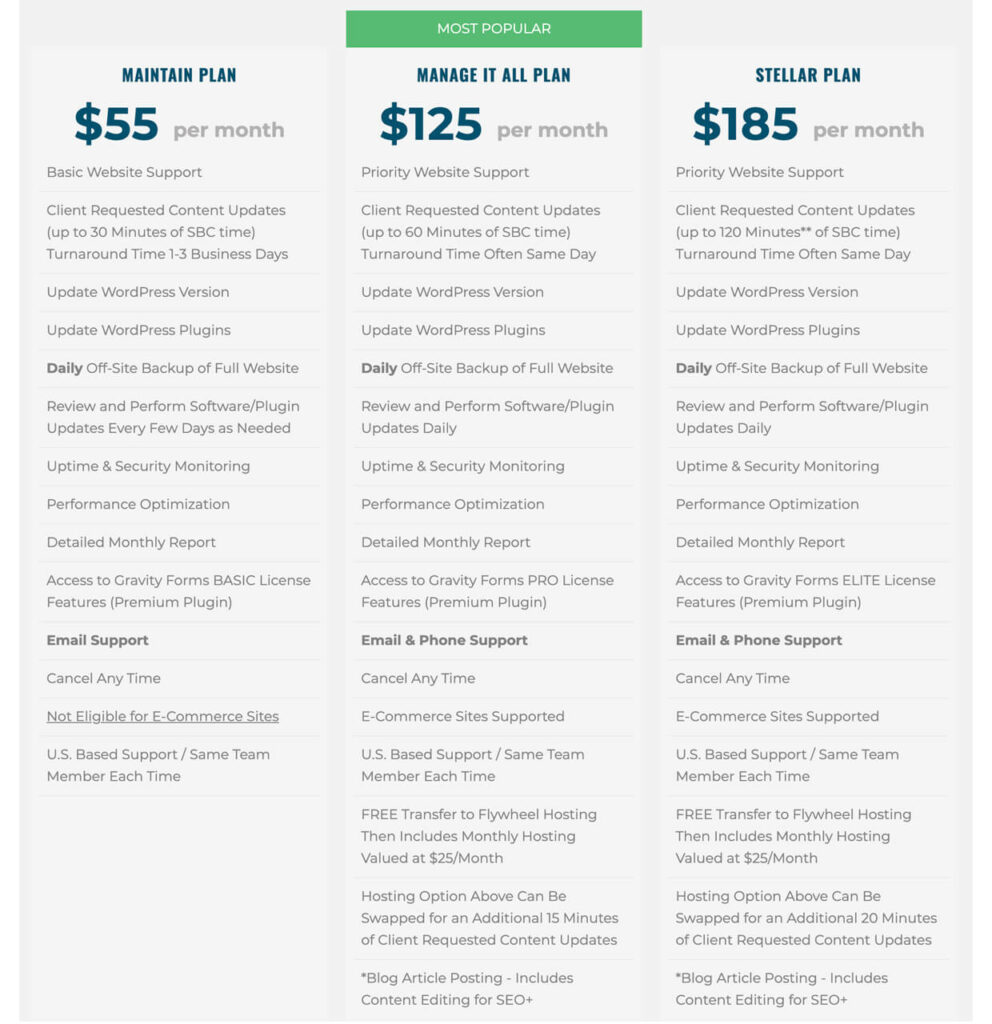 WHAT IF I DON'T KNOW WHAT SOME OF THOSE INCLUDED THINGS ARE?
If you're not sure what some of the items are, ask for clarification. If the website maintenance services provider cannot explain it, make a note. Maybe even more important than what's included is the process of how they are applied. See the next "How Does it Work" section below.
HOW DOES IT WORK?
Signing up for a website maintenance plan can feel a little scary. This is especially true for the new small business owner. They may not be sure what to expect, or if they are spending their money wisely. One of the most common questions we hear is "how does this all work?". Be on the lookout for a service provider who will take the time to explain to you their process. This includes the order in which items will be addressed, and how you can be sure your site is 'safe' with them.
How it Works with SBC:
The very first thing we do once a client subscribes to a maintenance plan is to add them to our project dashboard. Then we create a full backup of the site in the condition it was presented to us. We turn on uptime monitoring and run a security check. At this stage, we start a log of the current status of the site, noting plugins that may need to be updated, optimizations that need to be performed, and themes that may not be necessary that can be removed. We move forward by making the first plugin update and create incremental backups after each. These backups ensure that if a plugin update creates a conflict, changes the layout or look of the site, or even crashes the site, that we can easily roll back to a full and working version within a few minutes.
Once all updates and observations have been recorded we send them to the client. Future reporting is sent via email in a PDF format each month. In the interim, we perform daily or weekly updates and make additional backups throughout the month.
DOES MY MAINTENANCE PROVIDER ALSO BUILD WEBSITES?
If your maintenance provider doesn't regularly build websites, they may have a difficult time making your requested content/verbiage or image updates. The good news is that Website Maintenance Services Providers are usually also website designers. However, with website design, not all designers are setup to provide ongoing maintenance. It's a good question to ask before you get started on either. Ask about their website building experience and history. Ask about the platforms that they are specialized in, and if they are familiar with website page builders. Like having Ford provide maintenance for your Ford vehicle, keeping all website related items under one roof is usually best.
SBC Builds and Maintains Websites
At Studio Barn Creative, we have a history of building custom websites on the WordPress platform. We build custom sites for clients using the Beaver Builder suite of products and continue to manage client websites after launch. Many of our other Maintenance clients' websites use different page builders such as Elementor or Divi. Additionally, we work with several other Maintenance clients whose sites were built several years ago and are based on outdated Themes. We've got a diverse realm of experience and client types.
WHO PERFORMS THE MAINTENANCE?
It can be rather frustrating, for both parties, trying to communicate with someone different each time a client requests a content update. It is equally frustrating trying to communicate with someone that is difficult to understand. Regardless of your location, you may want to ask who will be assigned to performing the maintenance of your site and what their primary language is. It's also a good idea to ask what the primary form of communication will be; email or phone.
SBC is a U.S. Based Website Maintenance Services Provider
At Studio Barn Creative, we are based on the East Coast of the United States. Our primary language is English, and we communicate primarily via email and occasionally by phone as needed or requested. Core updates (e.g., plugin updates) are automatically performed behind the scenes by one of our team members, based in the U.S. Client-requested updates are sent via email to the same SBC team member each time. This helps to not only build a rapport, it also helps us to understand your business better.
ARE CONTENT AND IMAGE UPDATES HANDLED FOR ME, TOO?
Generally, the primary focus of Website Maintenance is updating core software and plugins. However, over time you'll also need to make incremental changes to content and images. Asking how much time is allotted for this in your plan is a good question. Also, you'll want to ask how to communicate those types of changes.
SBC Website Maintenance Plans Include 30, 60, or 120 Minutes of Content Editing
At Studio Barn Creative we offer a predetermined number of minutes allocated each month to making client-requested updates. We often tell our client-users that we most likely perform updates much faster than they can because we do this type of work every day. Where they might need 30 minutes to complete a task, we can accomplish it in 10 or less.
As a bonus, because we also have a professional graphic designer on staff, we edit/format images for website use before adding them to a client's site. Most photographers create images that are so large that if printed they'd be taller than an closet door. Just imagine how long it takes for websites to process those types of images. We ensure that any photo we add to a site is prepared to meet website best practices.
WHAT HAPPENS IF MY REQUESTED UPDATES GO OVER THE ALLOTTED TIME FOR THE MONTH?
It is possible that a set of client-requested updates will take longer than is allocated for in a Maintenance Plan. Ask your provider what happens when that occurs. Ask if they can be accommodated, if there are additional fees, how the billing of those fees are handled and how long they will take to be accomplished.
SBC Communicates and Quotes Overages
When a client makes requests for updates to their site, we asses how long they will take before we get started. If we believe that updates will take us longer than the (remaining) allotted time, we alert our clients via email before moving forward. The email notes how much longer we believe the updates will take and we provide a not to exceed quote for the additional work. That means that even if it takes us longer than we assessed, we will not bill more than we quote. Before moving forward with the work, we await the client's approval of the additional fees. The invoice for the work is sent after the work is complete and is based on our normal hourly rate with a 15 minute minimum.
If the additional work is substantial in nature (e.g., new functionality, creating additional menus and pages), we may request a 50% deposit prior to the start of the additional work.
WHAT TYPES OF WEBSITES DO YOU SUPPORT?
Some service providers will care for any and every type of website. Others specialize in particular platforms. It's important to ask your provider where their expertise lies.
SBC Cares for Websites Built on the WordPress Platform Only
WordPress built sites power approximately 43.3% of the internet as of the writing of this article. It's the platform that we have chosen to specialize in and focus on only. We do not provide care for HTML sites, or those built by do it yourself builders such as SquareSpace, Weebly, or Wix.
HOW LONG AM I LOCKED INTO MY PLAN?
Website Maintenance Services Providers each have their own way of offering services. Ask about contract terms and what their cancellation policy entails.
Cancel Your Plan with Studio Barn Creative at Any Time
We want clients to be happy with our services and happy with their site. If for whatever reason clients choose to leave us, we make it easy to cancel their plan at any time. Plan payments are non-refundable once they are made, however, cancelling ensures that a new bill will not be charged. During the subscribing process to one of our plans, an account is created in the client's name. To cancel, clients visit our website in the footer area and click the "My Account" button. Cancellation is easy with on-screen prompts.
DO YOU OFFER ANY DISCOUNTS OR COUPON CODES?
Ask your service provider if they offer any discounts for full year payments over month-to-month payments. Some offer coupon codes or rebates depending on the level of maintenance being purchased.
SBC Offers 50% Off First Month of Service
Our mission is to help your business succeed. We also want signing up for a maintenance plan to be as risk-free as possible for our clients. As such, we offer 50% Off the first month's payment when you use our coupon code 50-SBC.
We Hope You Liked This Article
NO TIME TO LEARN THE ROPES?

Our team provides wickedly effective websites, maintenance plans,
+ digital marketing services
for businesses just like yours.

Click HERE to get started.