Free Stock Photography for 2022
If your business isn't quite ready for or cannot afford their own corporate photography, these free stock photography sites will be right up your alley.
Last Updated September 13, 2022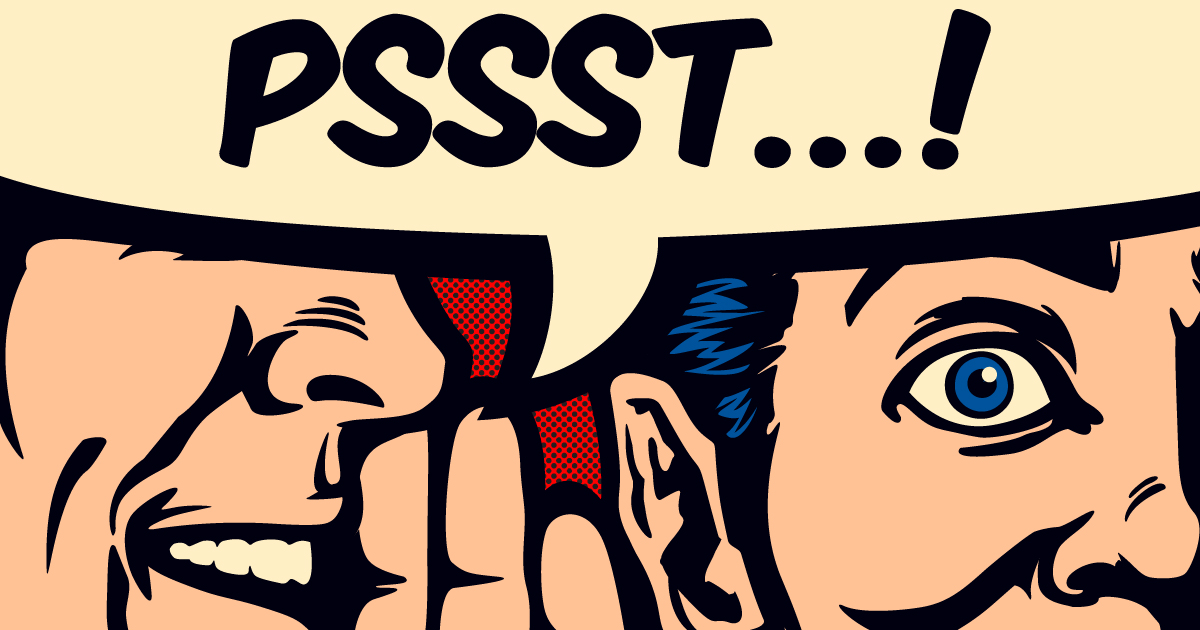 Free Stock Photography Sites for 2022
And One For-a-Fee Recommendation
Our brains are more engaged by images than text. According to 3M, we can process the meaning of images 60,000 times faster than words. They go on to say we only remember a fifth of what we hear. Pictures are where it's at if you're looking to get your point across. Unfortunately, quality images can be elusive or come at a cost. As a small business owner, we thought your website, feeds, and blogs could benefit from this list of free stock photography sites.
Before Downloading: Terms to Know
Attribution
Sometimes, a deal can be too good to be true. This can be true with 'free' stock photography. While you're surfing the sites below, or anywhere, be on the lookout for the phrase 'attribution'. Many of the images you'll find on 'free' stock photo sites will allow you to download and use the image at no monetary cost. However, the photographer (or the site) may require that you make a note on or near the image attributing where the image is from. We believe that the most professional way to present your small business is without attribution. So, be sure to find images that do not require attribution.
Commercial Use vs. Personal Use
Some free stock photography sites allow you to download for free and without attribution for personal use only. If you're a small business, and using these images on your business website (or anywhere to support your business), that is considered commercial use. Personal use is different altogether. For example, personal use would be an image used to create your child's birthday party invitation.
Royalty Free
The meaning of 'royalty free' is different than 'no-cost to purchase'. The "free" in royalty-free refers to being able to freely use the image without paying additional royalties. For instance, as a small-business owner, you may opt to pay a one-time fee for royalty free image for use on a website.
Our Favorite Free Sites
There are a growing number of free stock photo sites to choose from. Over the years, we've found a handful of these sites that we continue to visit. They deliver high quality images and professional photographers are continually adding to the libraries. Of note, be sure to read each site's 'About' page to learn what you can and cannot do with their images. The sites below represent those that will offer you the most freedom of usage.
Unsplash
Unsplash – This site has a wide variety of images that you can use commercially or personally without having to attribute the photographer. We really enjoy the search feature.

PikWizard
(new to this list as of November 2020)
PikWizard – This site is a (mostly) free stock image and video site.
The PikWizard libraries have over 1 million stock images and videos and they are added to weekly.
All assets are high-quality, contemporary and completely copyright free.
But what makes them unique is that they also have an editing tool attached called Design Wizard. A free stock site and a free graphic design editing software tool all-in-one.

Pexels
Pexels – This site also provides completely free and high quality stock photos. The library is fully searchable.

Rawpixel
Rawpixel – This site puts a twist on their 'free' downloads. They offer different file size options (e.g., print vs. web) for download. They also allow up to five images per day from their Free collection. If you need more, they offer subscription pricing for unlimited downloads.
Bonus: Rawpixel offers a Public Domain section. The term "public domain" refers to creative materials that are not protected by intellectual property laws such as copyright, trademark, or patent laws. Anyone can use a public domain work without obtaining permission. Items typically end up in public domain after a significant amount of time has passed.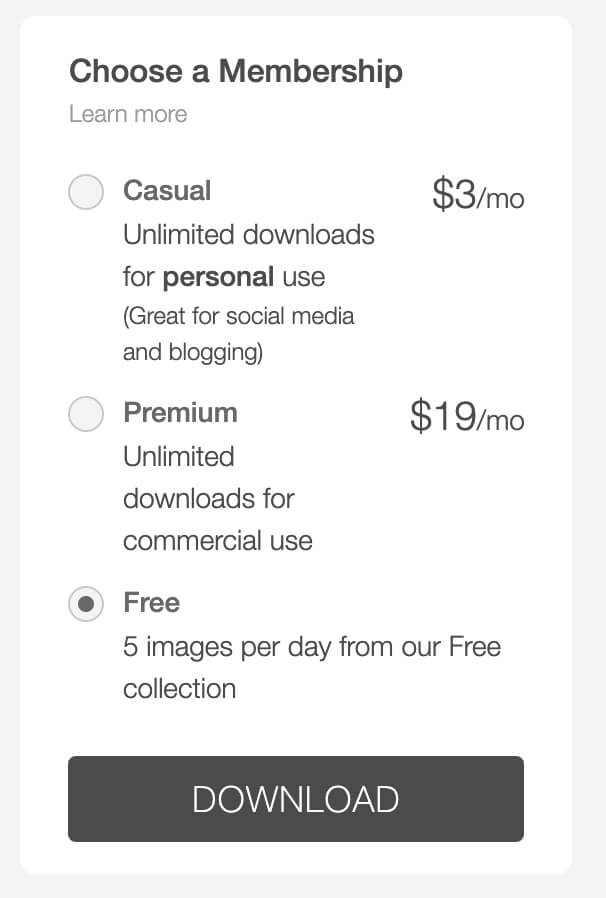 Gratisography
Gratisography – Oh my goodness. If you're looking for something a bit left of center or quirky, look no farther. This site has compiled some of the most unique images you may find on the internet. They also have a fairly strict review process for which images they will allow to be housed on their site.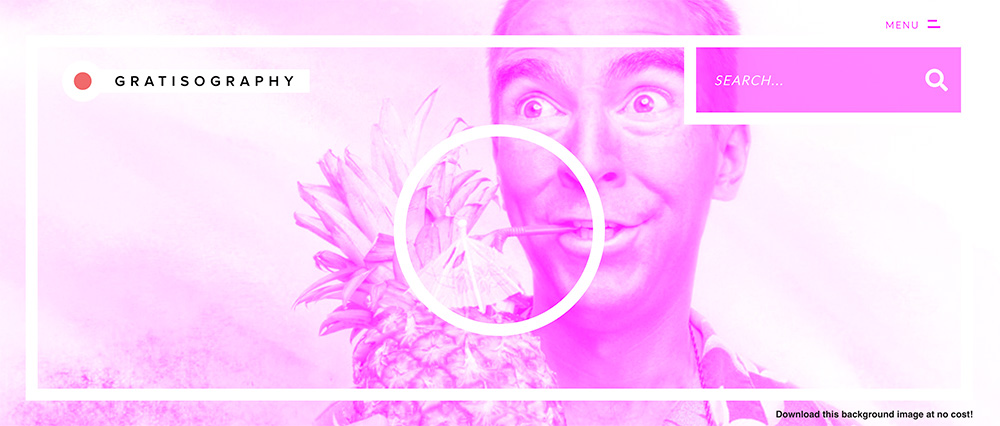 BONUS: Our Go-To For-a-Fee Stock Photo Site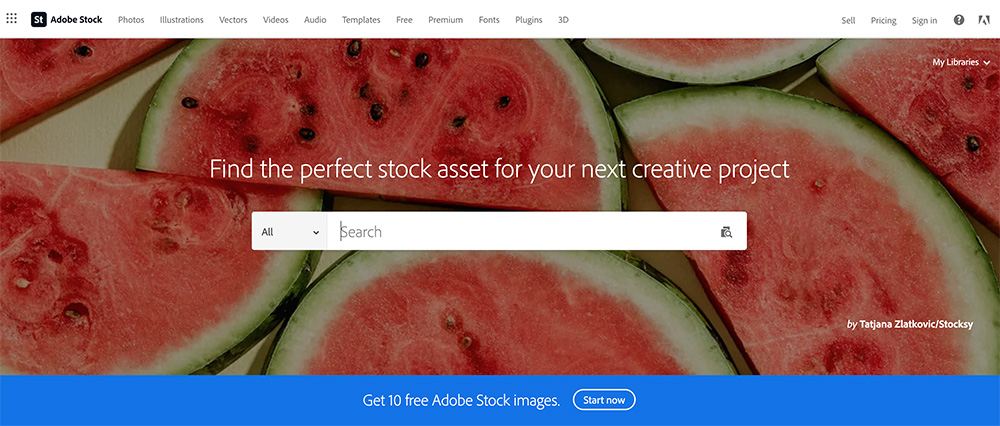 Adobe Stock
If your business is just getting started, finding and choosing free stock photography is a very helpful option. At Studio Barn Creative, while we utilize this option, we also subscribe to Adobe Stock. Adobe Stock is a professionally curated, for-fee, stock photography database.
As designers, we appreciate the option to preview watermarked images inside our designs first before downloading. Once we decide that the image will work, or our customer approves, we can then license, access and manage them directly within Photoshop, InDesign, Illustrator, and other Adobe desktop apps.
Pros and Cons of Stock Photography
Stock photography, especially the free kind, can make small business owners feel warm and fuzzy. And, it can save them a great deal of time. It feels like a win/win.
There is, however, a downside to stock photography: it eliminates your ability to be truly unique.
If you start to pay more attention to images in your daily web surfing, you'll begin to see some of the same photos over and over. They are great images that can be found on free, or paid, stock photo sites. Because they are great, several (if not hundreds of) people have downloaded and used them.
So, what's the alternative? If you have a quality camera, you could begin taking some of your own pictures. Or, you could consider hiring a photographer. A photographer can be especially helpful in capturing your business specific location or team members. If you're local to the Charleston, South Carolina area, Studio Barn Creative provides corporate photography services for our website clients.
Interested in Professional Corporate Photography?
If you're in the Charleston, South Carolina area, we offer professional corporate photography services. Check out some of our cool photos here.
We Hope You Liked This Article
NO TIME TO LEARN THE ROPES?

Our team provides wickedly effective websites, maintenance plans,
+ digital marketing services
for businesses just like yours.

Click HERE to get started.