5 Digital Marketing Tips for Your Business
Spoiler alert. Without a little prep, not every tip will work for every business. The good news is that with GSOTs (Goals, Strategy, Objectives, and Tactics) in place, your business has a better chance of leveraging all of these. Be prepared to move the needle 1% at a time to start compounding your growth.
Last Updated August 8, 2022
We put together a high-level list of Digital Marketing Tips for small businesses. Please remember, that for any of these to work well for your business there is an often-unspoken prerequisite. You must first define your business's goals, strategies, and objectives.
Digital marketing tactics include everything from social media advertising to blog writing, to email campaigns. It's helpful for business growth to choose tactics that will reach your target audience in a way that supports your goals. What's most important, though, is starting.
Start with a Website
A website is one of the first things people see when they start researching your business or the services it provides. If the business does not yet have a website, finding someone to work with, sooner rather than later, will pay off in dividends.
Your website should contain a good amount of content that paints your business as an expert in your field. It should also offer helpful information to your readers. Remember, too, to update, replace, and change its content every few months or so. As of the writing of this, we at Studio Barn Creative are working behind the scenes at giving our website an overhaul. It will have a new look with new content.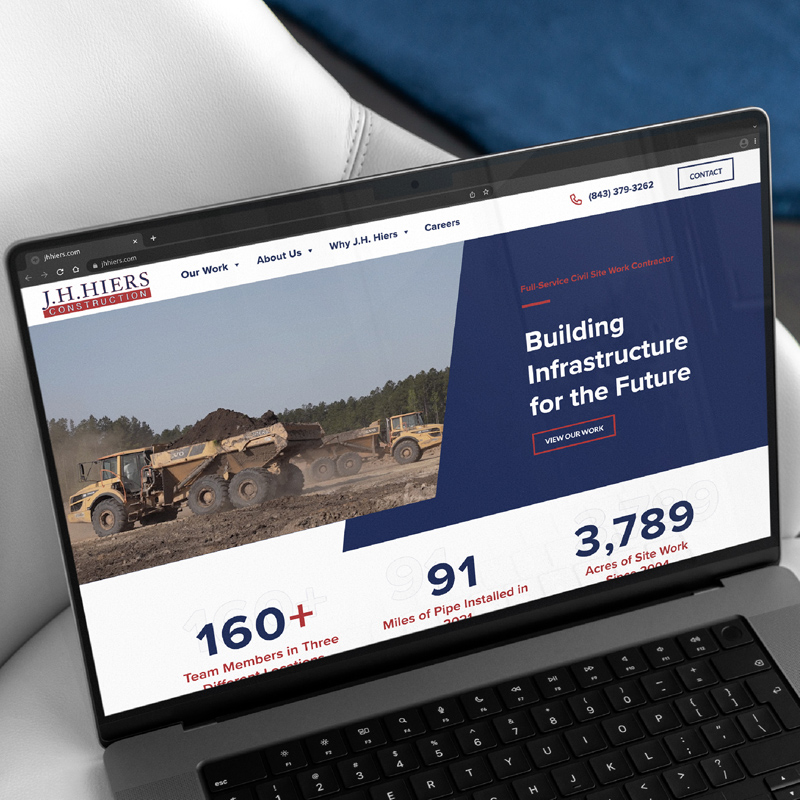 Pro Tip:  There are several DIY options for you to choose from (e.g., Squarespace, Wix, GoDaddy etc.).  However, we do not recommend them for the long-term.  There are several features and benefits to your business that are not available with do-it-yourself options.  Have questions about this tip?  Feel free to shoot us an email.
Create Social Media Profiles.
If you haven't already, it's time to start building social media profiles for your business. Social media profiles include, and are not limited to, Instagram, Facebook, and Twitter. These profiles will help you connect with potential clients/customers and nurture relationships with current ones. Use these sites to share relevant content and engage daily with your followers.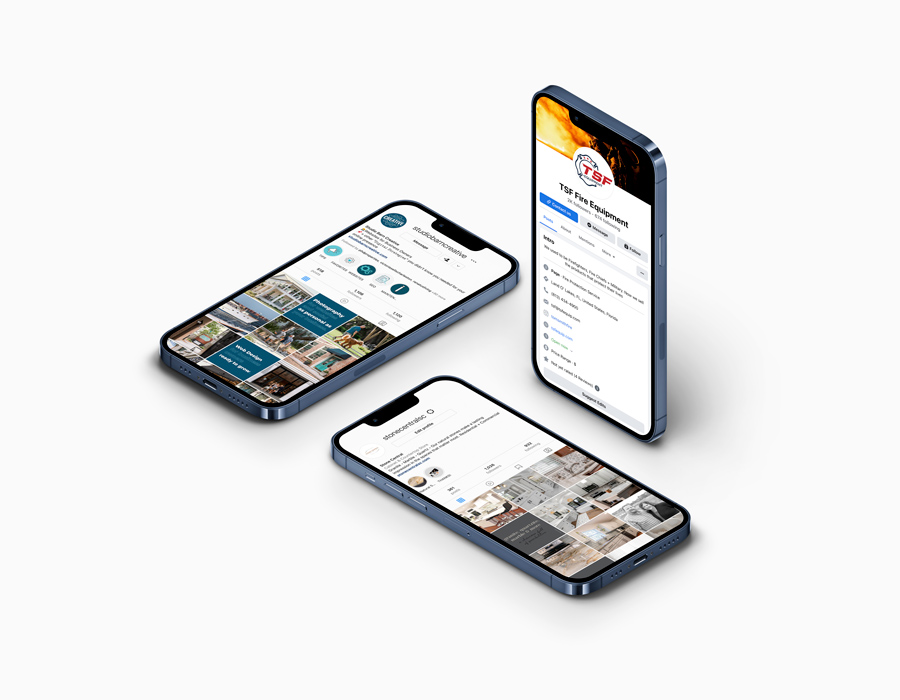 Pro Tip: Before creating an account on any social media platform, first understand where your target audience spends most of their time. If you are a Performance Auto Shop, your audience probably isn't hanging out on LinkedIn. Choose wisely as not to waste your time and efforts.
Pro Tip v2: If you're just getting started and feeling a little overwhelmed, start with one platform. Once you have the hang of that, then add another.
Build an Email List.
An email list is a powerful tool for almost every business. It allows you to send targeted messages to customers who have opted into receiving them. This means you can reach more people with less effort than other tactics. Successful email marketing is about building relationships, not about selling. The latter happens naturally after the former is established. Notably, email marketing often generates a good bit of return for minimal investment.
Our favorite system to achieve objectives with email is Mailchimp. They offer free and paid versions. We've had several clients who have tried to work with other email service providers with limited results. They almost always come back to Mailchimp.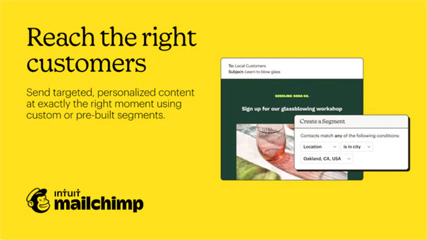 Pro Tip: Don't email just for the sake of emailing. Define your overall goal, and the purpose and objective of each email. Keep your main topic in the first paragraph. Also, write like you're talking to someone, not as if you're addressing a corporation.
Remember to Use Google My Business
A Google My Business listing is usually one of the first things people will see when they 'Google' your business. It's the listing that appears on the right side of the screen and provides links to your website, a phone number, photos, directions, 1-5 star review rating, and even purchase-ready products in some cases. A lot of small business owners overlook this very powerful, and free, tool.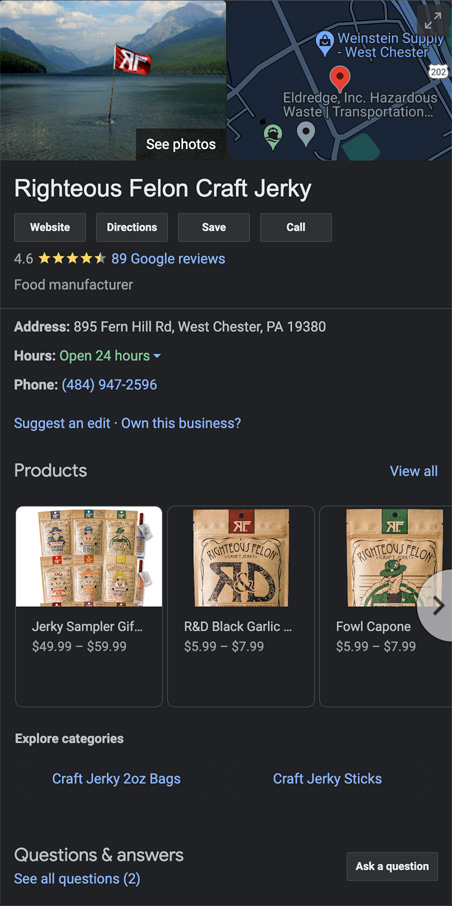 Pro Tip: Keep this listing up to date, especially business hours. Someone may be searching Google for your business and decide they want to visit your location. If you are closed, but the listing notes that you're open, your first interaction with them will be an unpleasant one. Especially if they arrive to find the doors locked and the lights off. Also, use this listing to post relevant pictures and helpful posts.
Promote Your Brand Online.
If you're just getting started with marketing, promoting your business may feel awkward. However, with a strategy that's tailored for your unique business, and using appropriate tactics, it's the most effective way to generate brand awareness.
For instance, social media platforms like Facebook, Twitter, and Instagram are an excellent place to promote your brand online. Today, algorithms are continuing to make it more difficult to get your content in front of a desired larger audience. These platforms are fantastic organically. However, putting a few dollars (as little as $5 or $10 per day) behind your content to expand its reach is even better.
In addition, for a fee, Search Marketing (e.g., Google Ads) will serve your content to a broader audience of your choice. This approach enables getting your content in front of the right people at the right time.
Pro Tip: Being consistent is one of the keys to online success. Write, talk, promote, post, share, teach, and encourage — often. Approach the building of your business as you would the building of an individual friendship.
---
Finally, remember that your business is different than everyone else's. As such, your digital marketing plan should be tailored specifically to your business. Digital marketing tips for small businesses are everywhere. There are 61,000,000 results if you search that phrase on Google.
What's not everywhere is the notion that not all digital marketing tips works for every business. The idea that the newest bright and shiny object won't fix the low foot traffic to your store is unpopular.
Whatever tips you implement, remember to think for yourself, too. How will this affect your audience, what does your audience want to know about, what makes your business unique and valuable? How is your business doing business better than the competition?
Remember, strategies are far different than tactics and objectives. Forbes helps explain it this way: A strategy is the approach you take to achieve a goal. An objective is a measurable step you take to achieve a strategy. A tactic is a tool you use in pursuing an objective associated with a strategy.
We Hope You Liked This Article
NO TIME TO LEARN THE ROPES?

Our team provides wickedly effective websites, maintenance plans,
+ digital marketing services
for businesses just like yours.

Click HERE to get started.