Natural Stone Supplier / Installer
Granite Countertops & More
The Request for a Home and Design Website
For Stone Central, a custom granite countertop (and more) provider in Summerville, it was time for a new website.  Over time, user expectations, website best practices, and design trends change and their outdated site needed to be refreshed.  The owners knew they wanted something that was more design-forward that would help to tell their story — textually and visually.  Most important, they wanted to be able to convey the personal collaboration approach that they enjoy taking with each customer.
Website Design, Website Maintenance, Copywriting, Custom Graphics, Social Media Management, Digital Marketing Services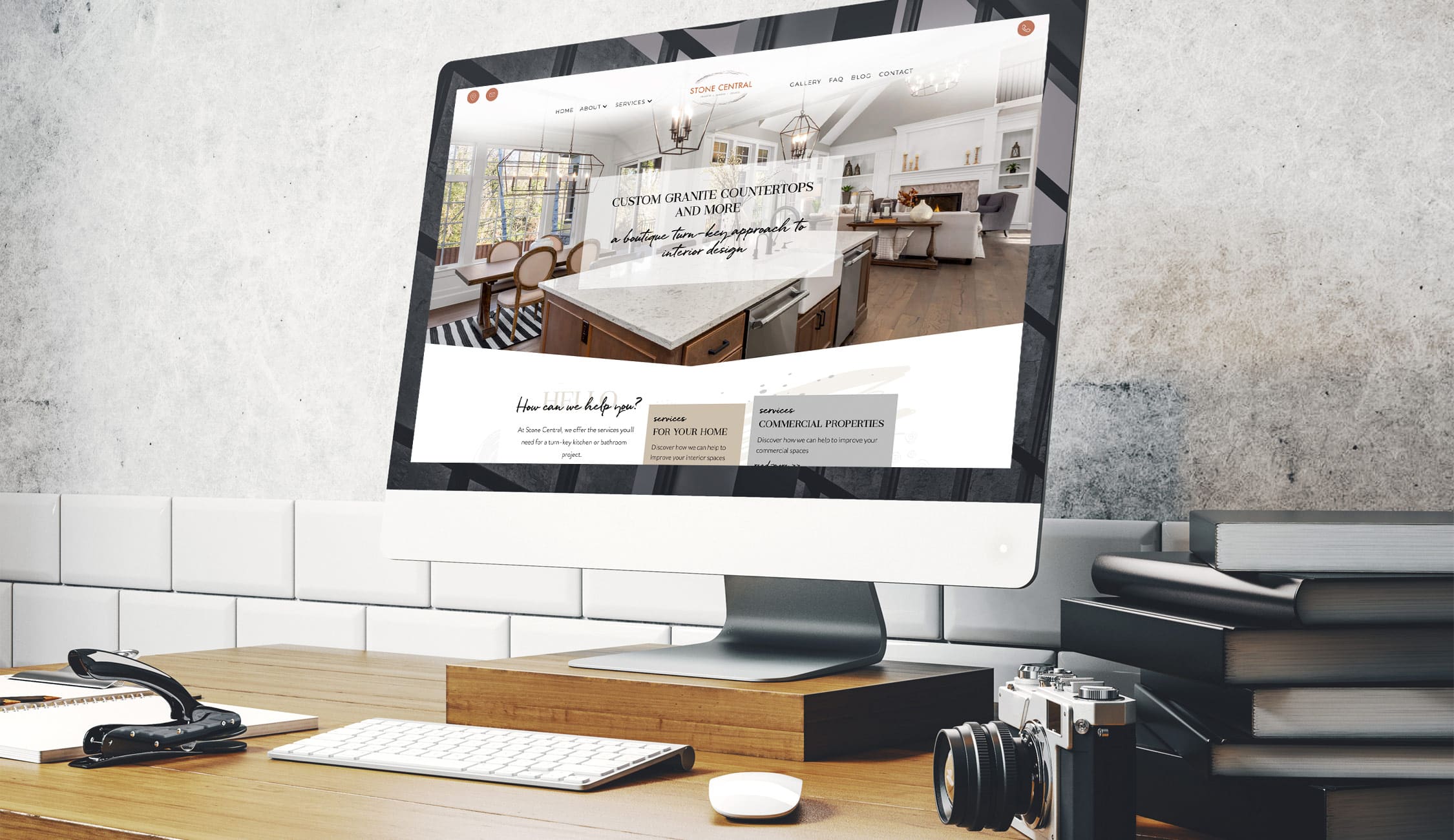 Our Approach to a Home and Design Website
With a space that will facilitate in-person meetings, we met Stone Central at their showroom in Summerville, South Carolina.  We reviewed their existing site with them (laptop to laptop). We identified things that were currently working, and items that weren't.  Then, discussed what and why we suggested making changes and what they could expect from a completed and custom website.  We spoke with four members of their team and made notes.  Consequently, they explained their needs and wants for a new Stone Central website.
The Development & Design Process
Like all of our custom websites, first we mapped out a sitemap.  With that in place, we got to building the interactive prototype.  Much of the existing content needed to be augmented if it was going to add value for their customers and for search engines.  As we sometimes do, we edited and added to the copy to improve readability and to hopefully keep readers engaged.  Once shared with the client, the prototype allowed Stone Central the opportunity to experience the functionality of a very basic version of their site.
With functionality approved, we moved into the design.  Keeping with the same color palette, but introducing more white space and less prominent use of the 'orange' from their existing logo, we let some of the beautiful photography shape the design.  As not to overwhelm the viewers with too much color, we created a custom abstract graphic as a background image that ties all of the pieces together.  The font selections for headings throughout were selected for the reason that they complement the boutique atmosphere that their showroom embodies.  For ease of use for visitors of the site, email and phone numbers are programmed as active links for devices that will start a call or open an email program.  Certainly, let's not forget links to their social media platforms, Facebook and Instagram.
Update
Starting in mid-2020, Stone Central partners with Studio Barn Creative to provide social media management of their Instagram and Facebook platforms. In October, we receive this message from the owner:
"You're doing a great job!!!! I had a designer show up in my showroom yesterday because we follow each other on Instagram. Her name was #### and her interior design business is called #####. Keep up the good work!!"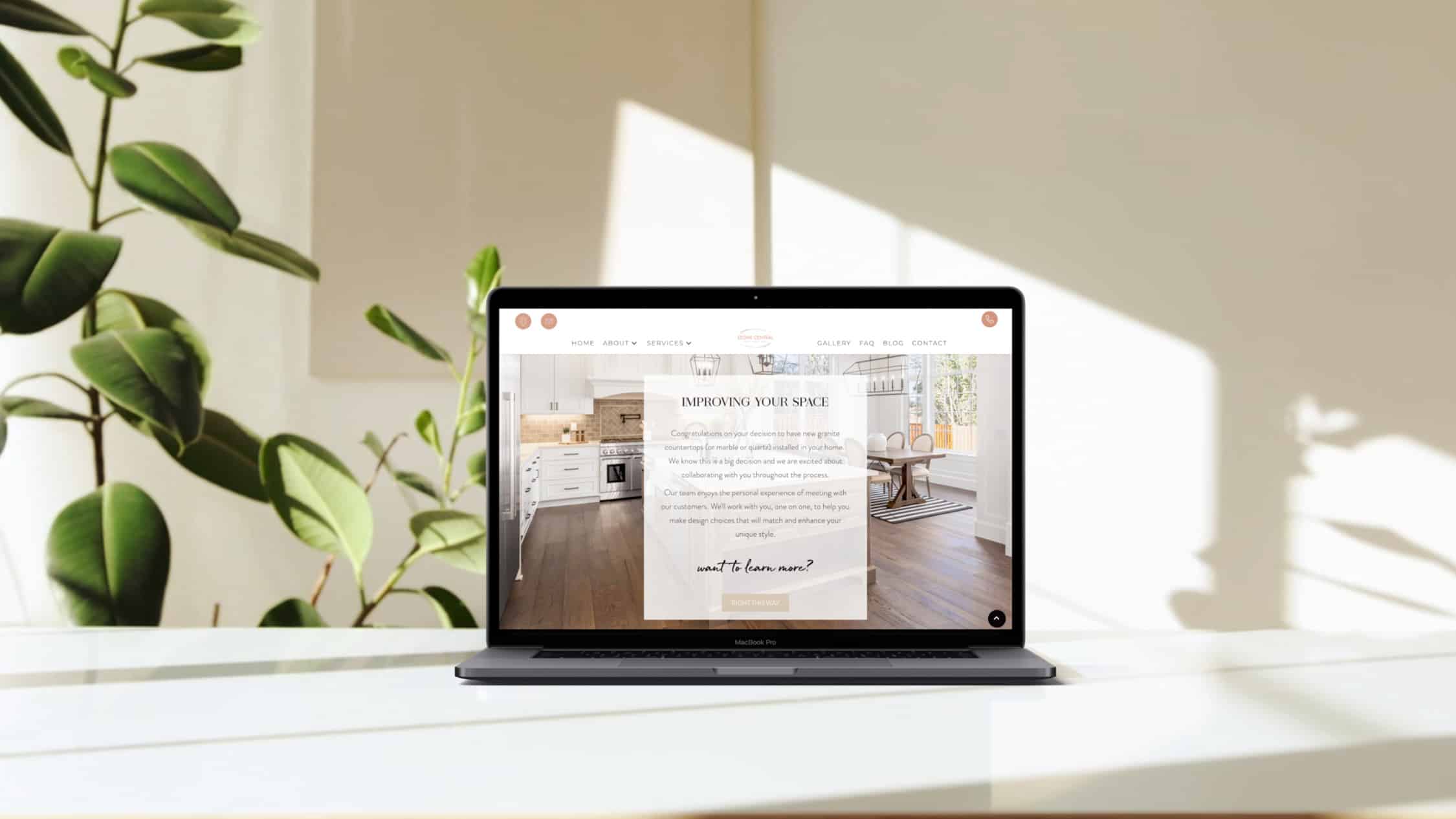 The site also makes use of a filterable photo gallery, a map link for directions to their showroom that is tucked away in Summerville.  And if that's not quite enough, a 'how to find us' button that will activate a slide-in-from-right explanation of their location.  In addition, a scroll to top circular arrow, and a helpful FAQ section are included. Of course, the site is also protected with an SSL certificate, which was not present on the previous site.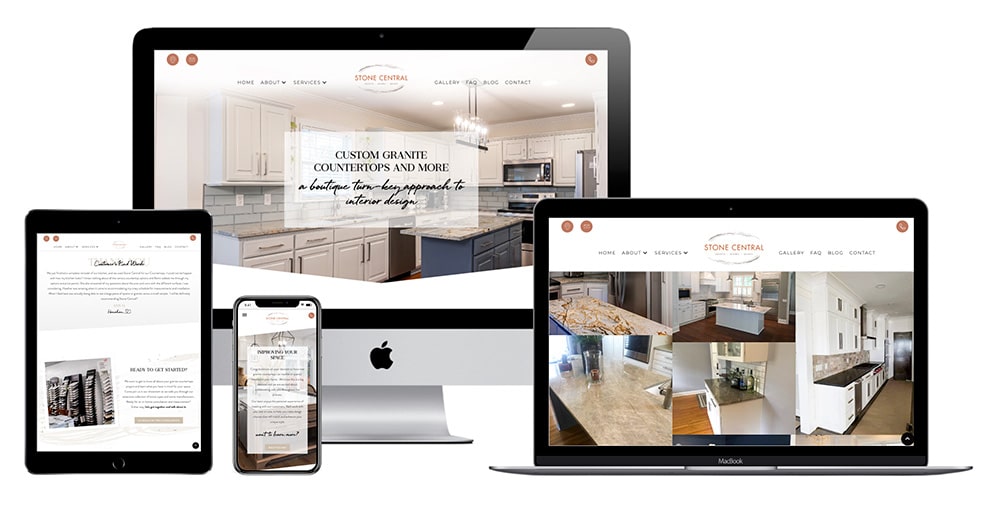 Finally, to complete the project, we performed several behind-the-scenes services. Above all, our mission is to ensure that new small business websites are found by Google and Bing search engines.