A Sprinkler Repair Company
The Request for a Yard Care Website
Sentry Irrigation, a sprinkler repair company, began servicing the Summerville area after 10 years as a general lawn care provider at Yard Care Extraordinaire.  Providing several different services, including servicing sprinkler / irrigation systems during that period, it was time to focus and specialize on one offering.  The YCE website had served them well, however, with the switch to a new business model, it was time for an upgrade. The new website needed to reflect the level of service and professionalism they bring to their industry.
Website Design, Business Email, Website Maintenance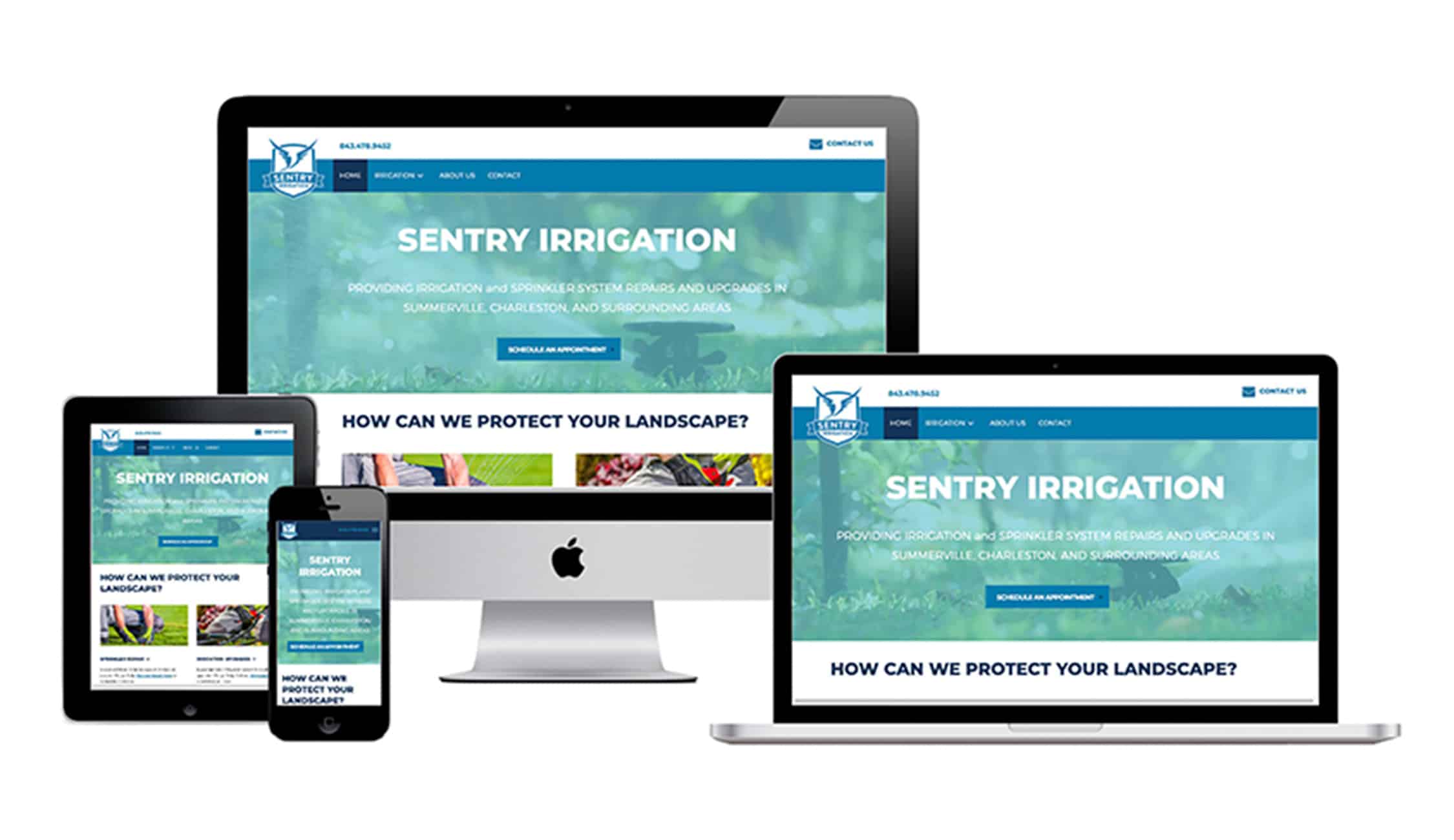 Our Approach to a Yard Care Website
Through a steady stream of communication, we began to understand the goals of Sentry Irrigation and what was important to them.  What was immediately clear was that they needed to project a professional appearance. It also needed to be easy to navigate for the user experience.  Therefore, our first step was to craft a sample site menu.  The first iteration uncovered some issues and version number two proved to be the proper framework for moving forward.
The Development & Design Process
From there, we began building an interactive prototype on the WordPress framework.  Prototypes allow customers to see how the website will function before the styling is applied.  The layout creates multiple paths for users to get to specific spots on the site. For instance, the contact page gives access to service rates, and the footer allows access to an employment application.  The home page uses visual cues to encourage users deeper into the site with access points.  To help users immediately understand what Sentry Irrigation is about, there is a unique value statement.  This statement is reinforced by a sprinkler system video that loops for visual interest.  When the user scrolls up and reaches a certain point, the original header area fades away with a new smaller one to take its place.  We used custom CSS (cascading style sheets) to create design elements that would complement headings and featured content (e.g., water droplets and arrows >>).
Sentry also needed the ability to capture contact information and employment applications.  With the use of premium forms, we crafted a form that matches their overall site design and colors.  The site is responsive (including the forms), adjusting content for any sized device.  As a final design element, we created custom artwork for various pieces of the site; infographics in the footer, animated water sprinkler, and water, grass, and gear graphics for end-of-section enhancements.
Sentry Irrigation intends to start writing content as it relates to their industry.  As such, we created a blog area. The blog features custom archive and single-layout designs. This layout is ready for them when the begin adding content.



Unfortunately, this client closed their doors in January of 2020.