Full-Service Civil Site Work Contractor
The Request for a Construction Company Website
J.H. Hiers Construction was ready for a new and improved look that fully reflected their breadth of services and growing project portfolio.  At the time, their current website was minimalistic with very little content to help potential clients or applicants.  It also wasn't optimized to be found in search engines for popular search terms in their industry.
Website Design, Website Maintenance, Copywriting, Premium Fonts, Custom Graphics, Video Production, Corporate Photography, Drone Footage, Social Media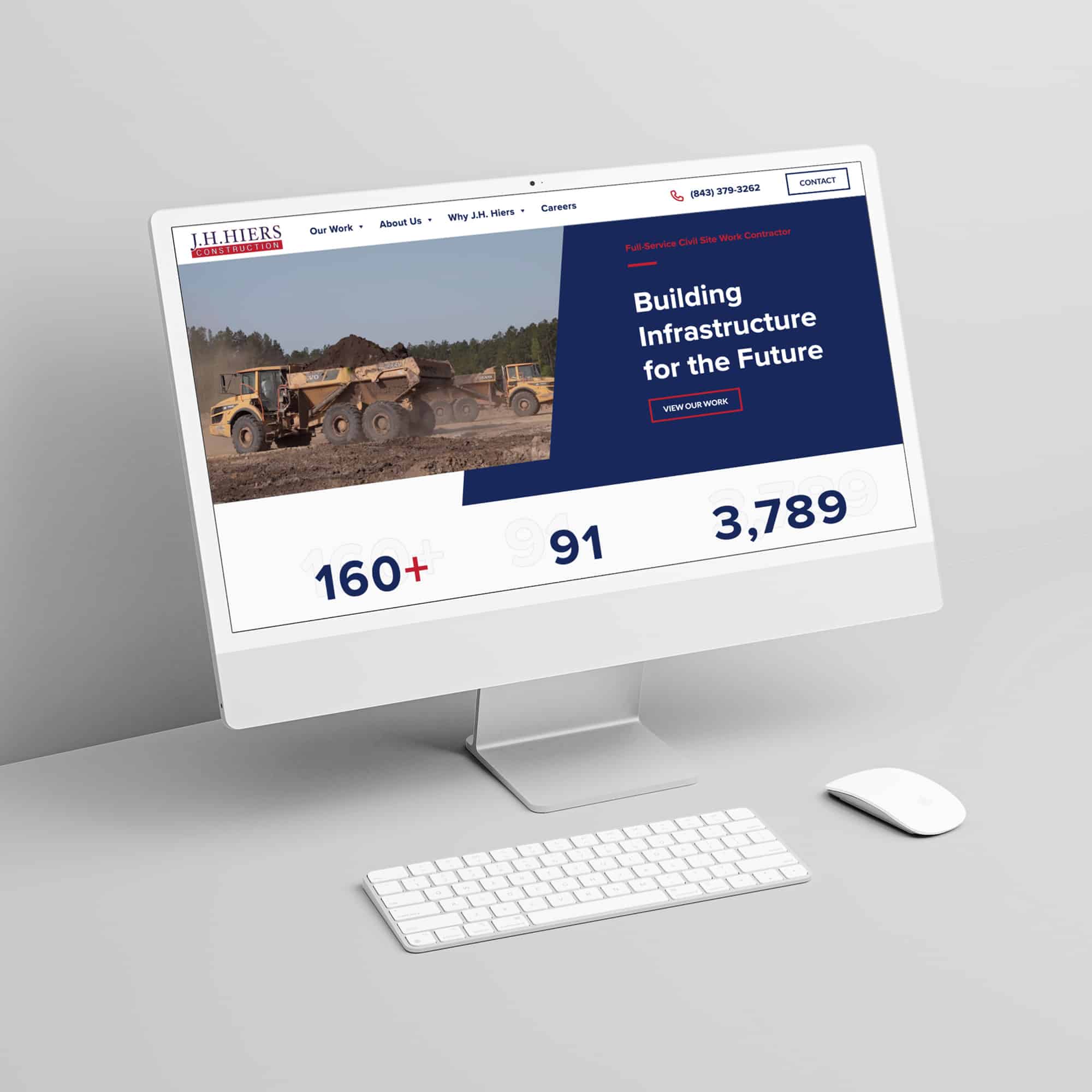 Our Approach to a Construction Company Website
We started by immersing ourselves in research of their industry. This was helpful in enabling us to write with confidence as we created large portions of the content.  We knew that this site needed to sizzle in comparison to their previous site and we planned the creation of a splash video, drone footage, on-location jobsite photography from Summerville to Charleston to Beaufort, and a corporate photo shoot for their staff.
The Development & Design Process
Periodic reviews by the client team allowed us to move forward from initial prototype to design review with minimal revisions.  Because this construction company had an established work history, we were able to help them create detailed overviews of a handful of featured project case studies.  We worked with their human resources department to ensure the online job application we built hit all the necessary items and more.  With help from their Project Superintendents, we were able to schedule days and times best suited for video production (on the ground and in the air). Finally, in hoping to educate and attract the next generation of construction workers, we included a blog section aimed at those new to the construction world to help them learn about this exciting industry in the dirt world.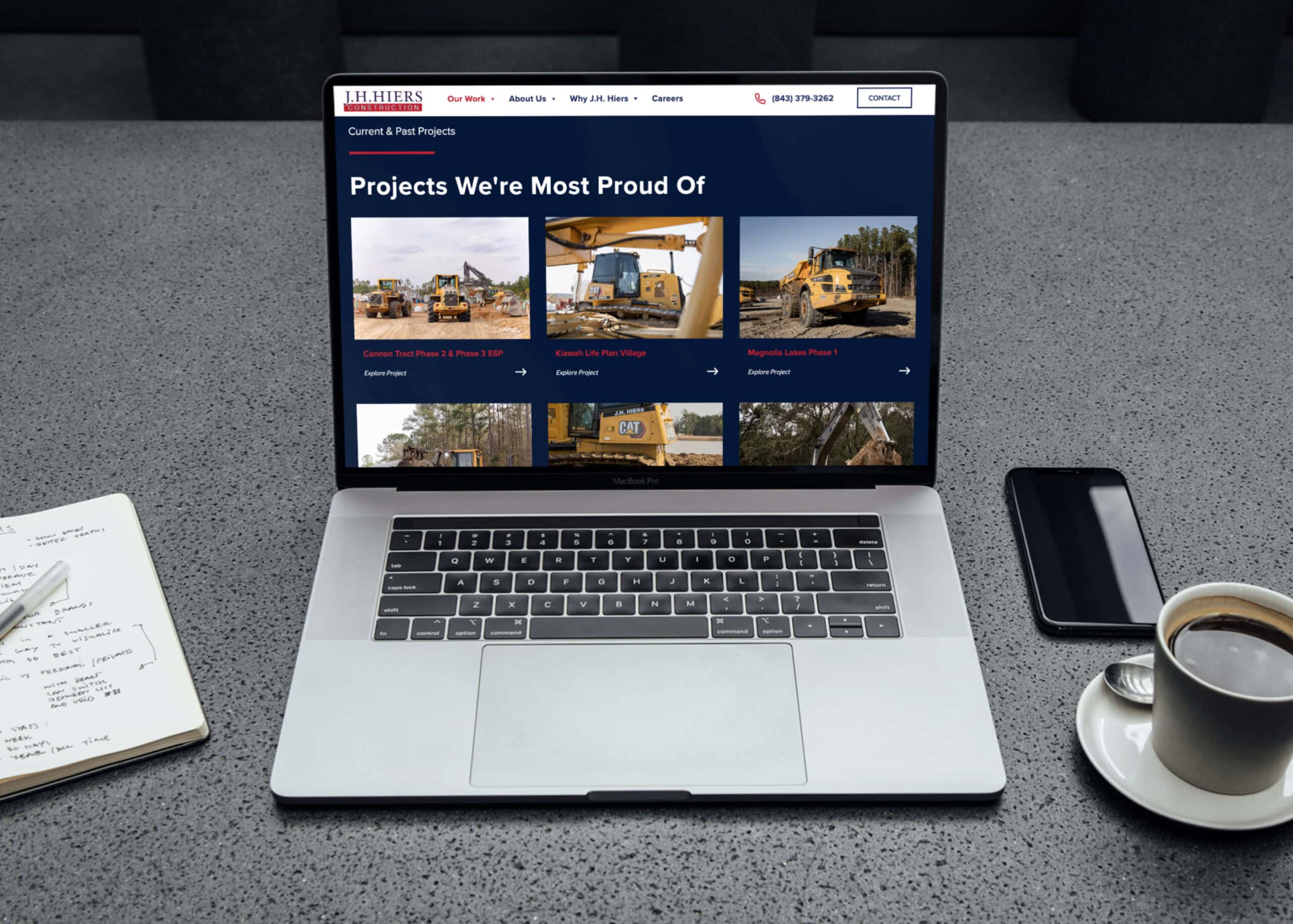 WordPress allows for insertion of custom HTML pieces. We utilized that function to hand-code and create focal pieces of the site (i.e., featured projects and services).  The online job application makes it easy for anyone to submit their interest in working for J.H. Hiers Construction company.  The Call Us and email links are active to simplify getting in contact on a mobile device.  There are, of course, links to their social platforms: LinkedIn, YouTube, Facebook, and Instagram, which we helped create and continue to help them manage.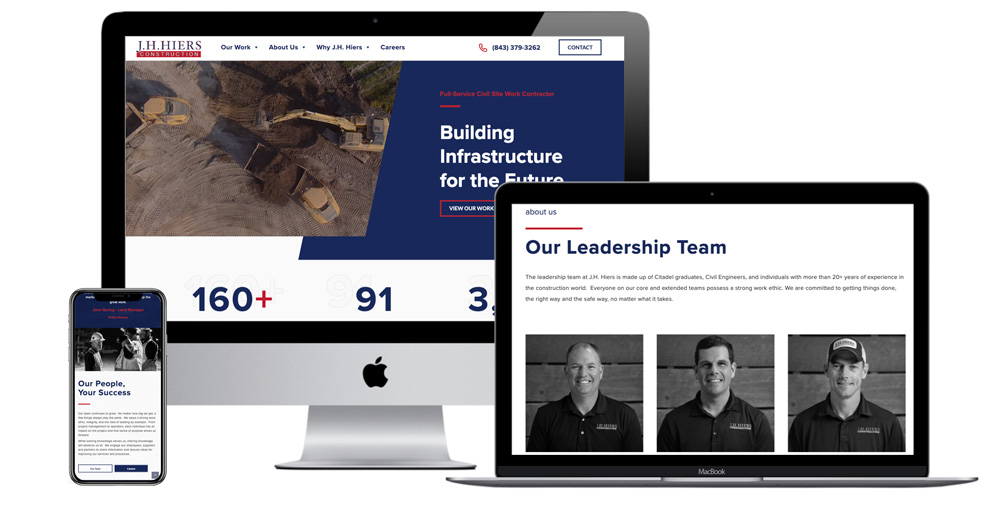 An SSL certificate is active and auto-renewing, the content is optimized for search engines, Google Analytics and Bing Analytic codes were installed with stats being monitored and reported, and Google My Business and Bing Places for Business listings for each of their three locations have been updated and are being maintained.