Architectural Design Associates
Imagine. Involve. Design.
The Request for a Architectural Services Website
Bobby Patterson of Architectural Design Associates, located in Clemmons, North Carolina was in need of a company to provide website maintenance.   His original site was created in 2012.  Since that time, the original developer became difficult to reach.  In addition, much of the functionality was broken making updates or changes a difficult or impossible task.  Once Studio Barn Creative was on board providing website maintenance services, it was obvious to us both fairly quickly that more than maintenance was required.   Therefore, we moved forward with a small business website redesign.  Bobby requested an updated site that would use contemporary and modern elements and be easy to maintain.  He also said, "Nothing too fancy."
Website Design, Website Rebuild, Website Maintenance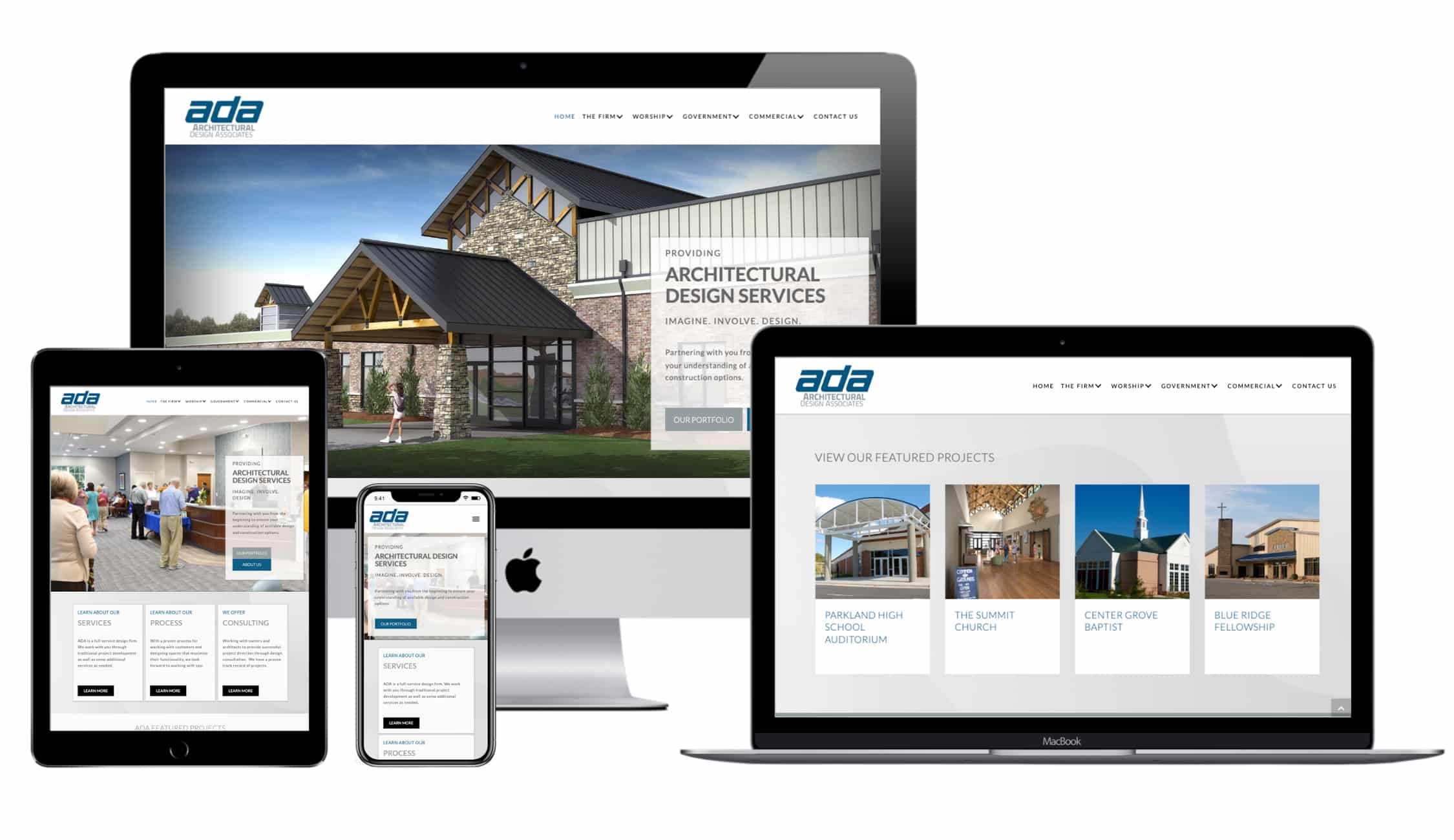 Our Approach to a Architectural Services Website
Knowing that much of the content from the original website would be repurposed, we were able to sail through the sitemap process and move fairly quickly into the interactive prototype.  The pieces that did need updating were the projects.  As you can imagine, a lot had happened for ADA since 2012.  As we were creating the prototype, Bobby has compiling the majority of project content you now see on the site.  This included new project descriptions and images.  Studio Barn Creative edited each image for size and web use.  Our focus was to ensure that moving around the site from project to project had an intuitive feel to it.
The Development & Design Process
Once the prototype was approved we moved into the design phase.  We implemented a modern font selection and included a muted color scheme allowing the project images to shine during viewing.

The new site includes a search-by-category portfolio.  Improving upon the previous site, links to email and phone numbers are programmed for devices that will start a call or open an email program.  We also included links to ADA's social media platforms.  Of course, like all of our sites hosted on Flywheel Hosting, the site is also protected with an auto-renewing SSL certificate.


Our website launch process includes more than 75 checklist items — performed pre and post launch.