The Request for a Massage Therapy Website
This Massage Therapy Website is for a new small business in Mount Pleasant.   The owner, Ryan, has been a massage therapist for more than 20 years.  He started his small business, Treatmint Massage Therapy, and needed a new website.  He requested a site to promote his services and unique business model.
Website Design, Custom Graphics, Copywriting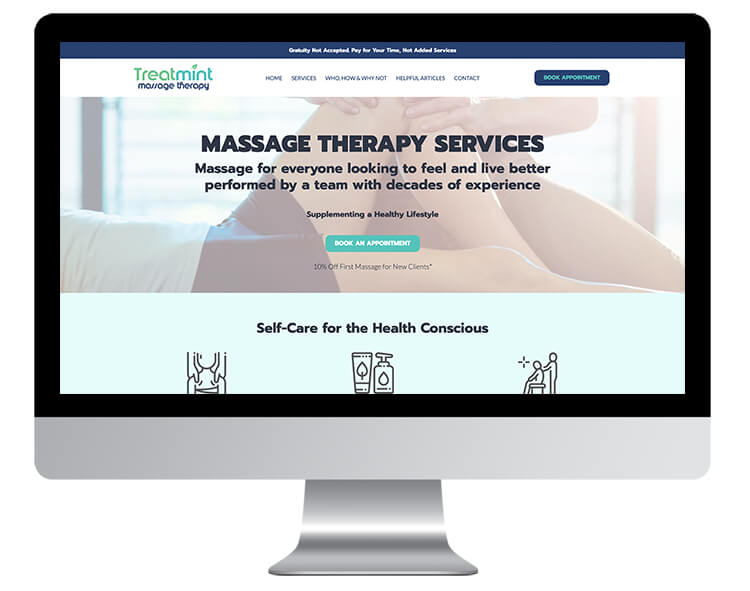 Our Approach to a Massage Therapy Website
Our approach with Ryan's website was to be sure that we keep his clear directives in mind.  He was adamant that massage should invigorate someone, not put them into a coma.  He also insisted that getting a massage shouldn't require a calculator and a math degree. Finally, he wanted to be sure that the use of the mint leaf was woven into the design somehow.  We got to work.
The Development & Design Process
Starting with a Google Drive folder and a place for all of Ryan's content, we organized the verbiage and images.  Then, as we do with every client, we built a sitemap and started building the interactive prototype.  This phase gave Ryan the opportunity to see where he wanted to make some adjustments.  We also pointed out that some areas of the content could use a little more content for people not as familiar with massage as he is.
As we got ready to step into the design process we took cues from his existing logo.  We pulled the HEX and RGB color codes.  Then, we created lighter, muted shades of those colors. We would be using these throughout for a cohesive look and feel. From there, we went about finding just the right font combinations for headings and body content.  With those items completed, we began building the design.  We had fun finding creative ways to incorporate the mint leaf throughout.  Upon revealing a peek at the design, we got a thumbs up across the board and how all of those elements worked together to bring his vision to life.  This massage therapy website was coming together.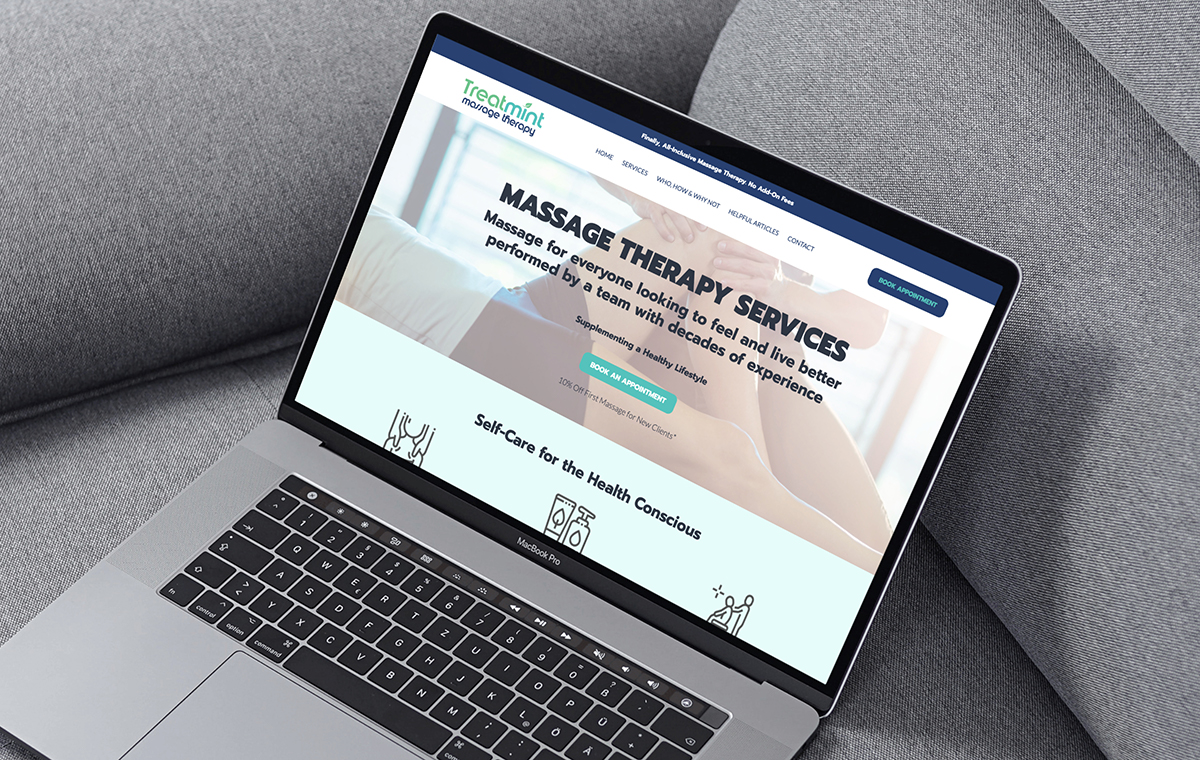 With design and functionality approved, we began incorporating the third-party booking software Ryan selected.  Using Clinic Sense to manage his booking calendar and payments, we incorporated the code into his site.  We programmed the "Book Appointment" button to open a window within the website itself (so that visitors do not have to leave to complete their booking).
This new massage therapy website includes a Google map with an option to get directions.  The site also includes social media links,  clickable email and phone links, a lead-capture form, and well placed animations among other things.  And like all of our sites hosted on Flywheel Hosting, the site is also protected with an auto-renewing SSL certificate.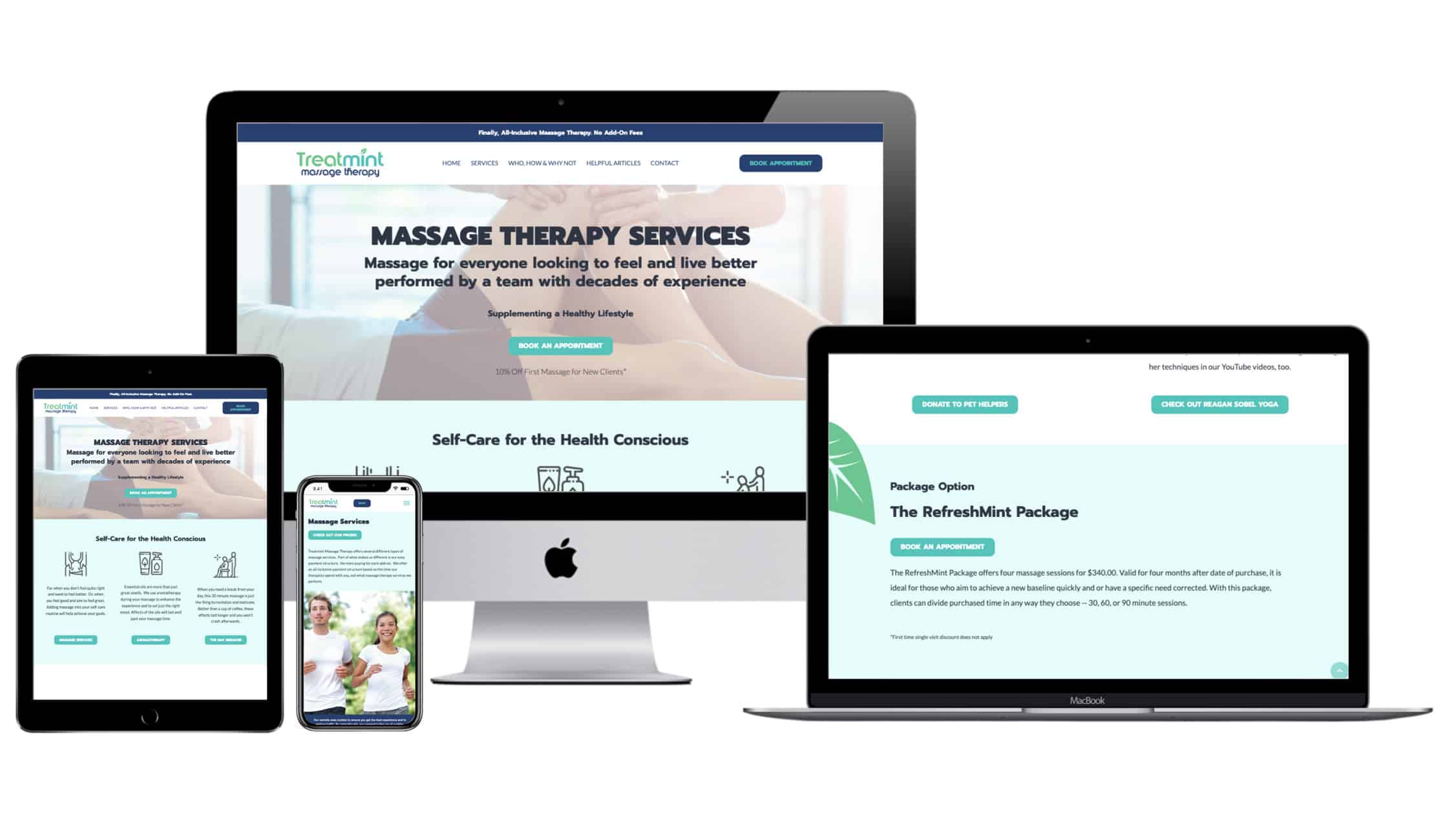 Finally, to complete the project, we performed several behind-the-scenes services before and after launch. In July 2021, this client took ownership and changed the layout/design.