THE REQUEST
Kerri Devine is an accomplished writer who offers her services as a creative writing instructor and who is building her brand as an award winning essayist.  Kerri has an impressive corporate background and has recently begun to transition into writing services that have a more personal impact. With that in mind, Kerri needed a professional website for prospects who wanted to learn more about her credentials and to get in touch with her if they wanted to work with her.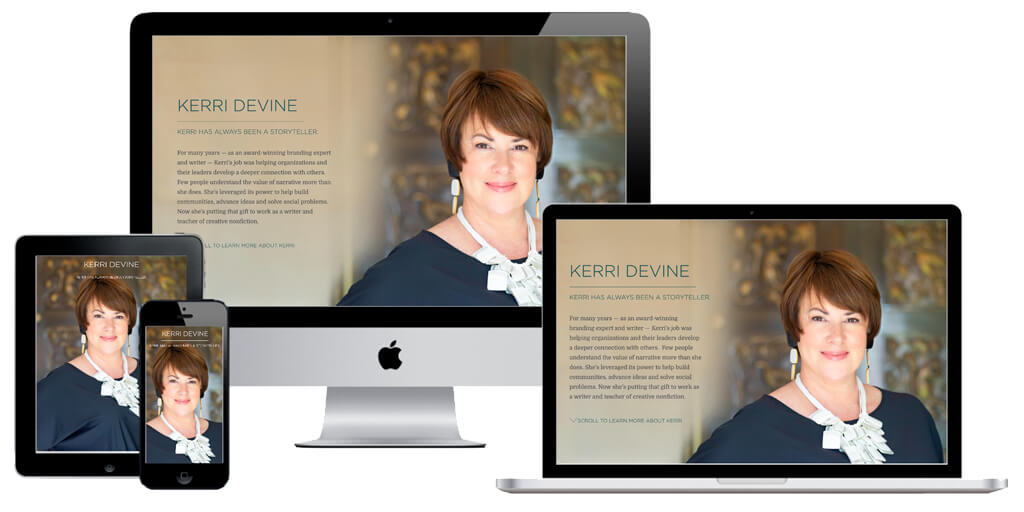 Kerri Devine – Essayist & Creative Writing Instructor
OUR APPROACH
Kerri's focus was on professional yet simplistic online presence.  As such, for this small business website design we agreed to a one page site.  This made the need for creating a sitemap unnecessary.  Therefore, we jumped right into building an interactive prototype.
As a writer, Kerri was easily able to provide us with well written content.  Because of her background in writing, she was also able to provide several testimonials from her peers who have worked with her over the years.
The Design:
Kerri Devine provided us with a basic color palette and then allowed us to do our thing as we created the pieces that would fit together to build out her new site.
Using the professional photography she provided we were able to add in some design elements and format those photos to align and fit within the verbiage that would ultimately surround it.  With mobile devices in mind, we crafted a different layout to be shown on these smaller screens.
We introduced two premium fonts to accentuate the design and to match some of the printed pieces she had completed previously.
Using a soft fade as the user scrolls to each section, readers are able to learn about Kerri's qualifications, what her contemporaries have to say about her, can download her white paper for a sampling of her work, or find the book where she is published.
Categories : Website Design / Business Email / Miscellaneous Services / Website Maintenance
Project Url : kerridevine.com
VIEW MORE FROM OUR PORTFOLIO