The Request for a Dance Studio
Dance Conservatory of Charleston opened its doors in 2017 in Charleston, South Carolina, to offer elite dance instruction. The founder, Lindy Mandradjieff, was a professional dancer with the San Francisco Ballet and the New York City Ballet.  Lindy, in concert with her husband, had built their own website using Wix (image on left) and had been maintaining it. The site did not reflect the level of professionalism that Lindy brings to her students. It also did not deliver a positive user experience for her visitors. Lindy's team was looking for a more sophisticated and user-friendly site that would communicate effectively all that the studio offers.
Website Design, Website Rebuild, Lead Capture, Event Calendar, Onsite Class Registration, Miscellaneous Services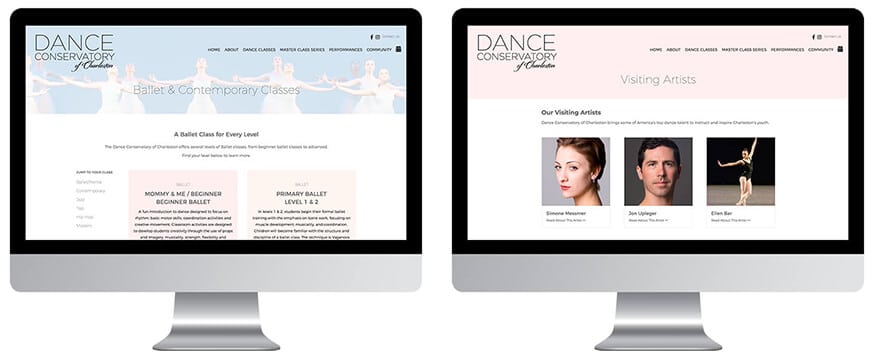 Our Approach to a Dance Studio
Meeting with Lindy and her team in her studio, we began to understand their goals as a group and what was important to each of them and their users. We also learned about what some of the hurdles were on their existing site. We discussed a phased plan for design and functionality updates.  The first step in the design process was to create a new menu sitemap that would be more intuitive for users.
Once the new sitemap was approved, we began building an interactive prototype on the WordPress framework. This prototype allowed the Dance Conservatory team to experience the new functionality before the actual design styling was applied. The new layout offered multiple paths for users to find and access the information they might be looking for. For instance, an interactive event calendar is included to allow everyone to find not only their classes, but also upcoming events such as Master Classes or studio closings. We worked with Lindy and her team to establish the perfect color palette and usage of fonts for her brand. The new branding is used throughout the site and will spill over into other materials. The homepage highlights professional imagery of Lindy, the students, and the state of the art studio. In addition, throughout the site, users are able to easily navigate to various sections of the site without the use of the main menu. The Dance Conservatory site now also includes a full sized photo gallery,  an easy to understand dress code for each class (e.g., ballet, tap, jazz, etc.), prominent links for registering for classes on their third-party provider, articles that have appeared in the local media, a directory of visiting artists and the faculty, an historical archive of events, and access to upcoming Master Classes among other items. Helping to highlight the caliber of the studio, Dance Conservatory's Instagram feed scrolls along the bottom of the home page serving as a sort of visual archive.
The Development & Design Process
A subtle touch is the use of animated text that gently reveals itself as the user scrolls up or down. The mobile version of this site is equally as user-friendly to navigate with "sticky" mobile menu and scroll-to-top links available from anywhere on the site. Finally, we installed an SSL certificate to ensure compliance with Google's security requirements as of October 2017.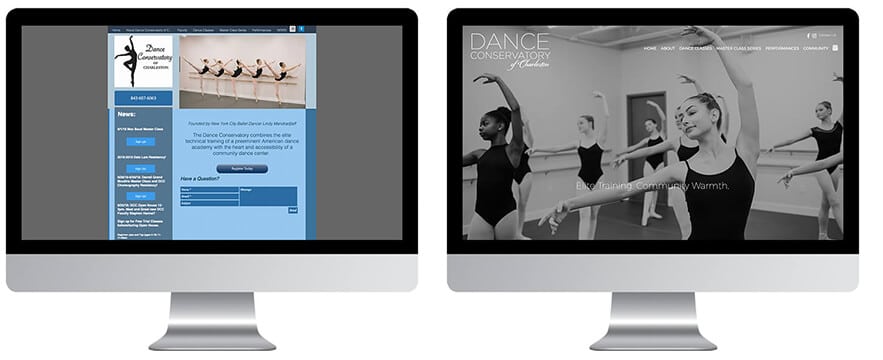 To allow Dance Conservatory to easily capture the names and emails of newly inspired students/parents, a lead capture form is positioned in the footer of each page. These emails are automatically added to the studio's ever growing contact list. This allows Lindy to craft important emails that can then be sent to her audience at a moment's notice. These emails are styled to reflect the branding of the new website.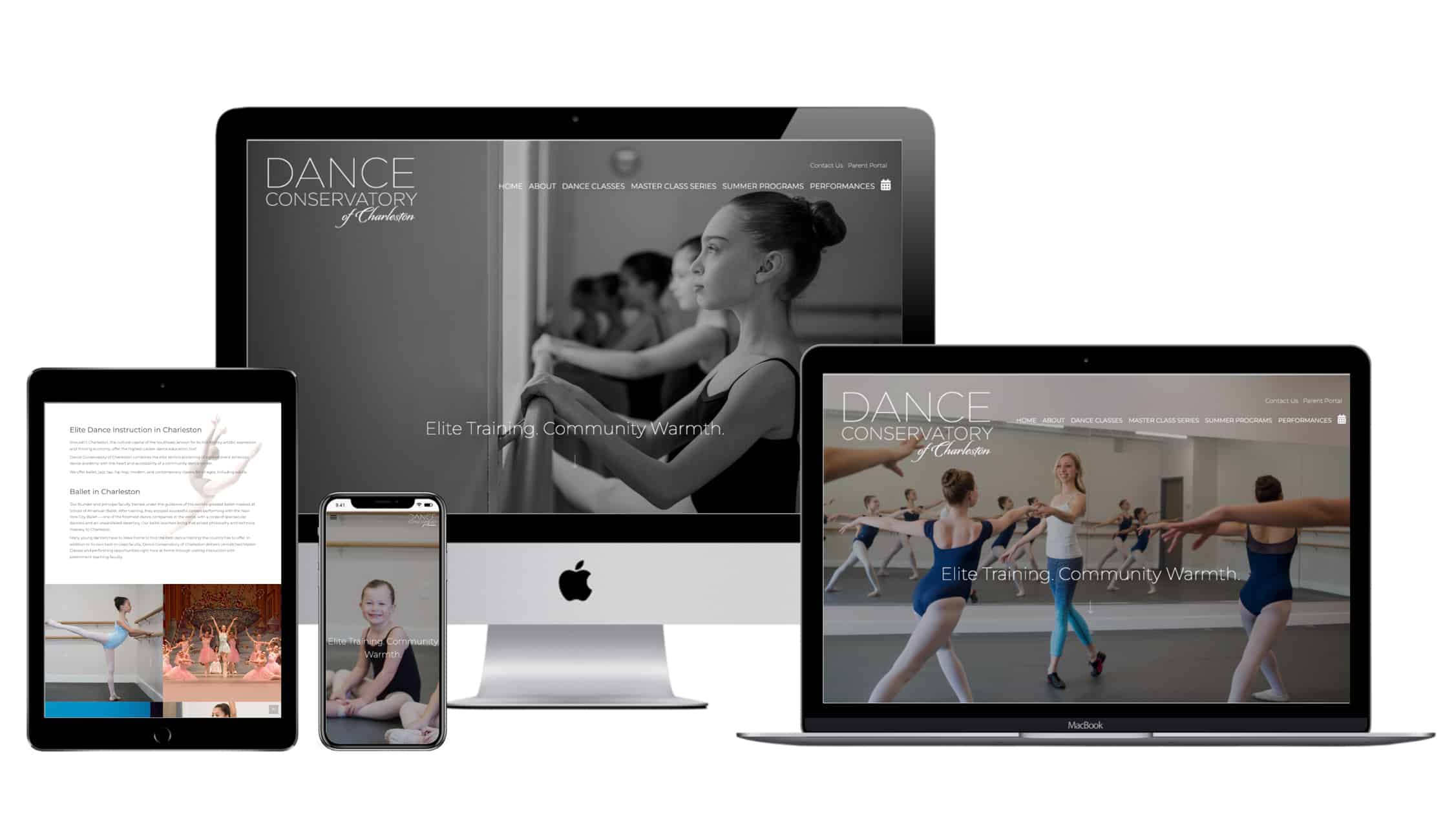 Part of any new Studio Barn Creative website is implementing SEO for small business.  By massaging some of the content provided by Lindy's team, we were able to create optimized pages that were easily and quickly indexed by Google.  At the writing of this piece, Dance Conservatory's website returns on page 1 and in some cases the first position for searches such as "Ballet Classes in Charleston", "Tap Classes in Charleston", "Master Classes in Charleston", "Jazz Classes in Charleston", and "Dance Classes in Charleston".  These results were achieved with organic (unpaid) search engine optimization.